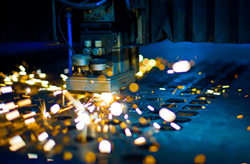 Seattle, WA (PRWEB) July 03, 2014
Cutting Edge Laser, a sheet metal cutting and fabrication company based out of Woodinville, WA, knows that the processes and technology of their cutting edge services can be difficult to understand. How do businesses know whether or not laser cutting will suit their metal project needs? What is their process for sheet metal fabrication and metal cutting?
In response, Cutting Edge Laser has recently released a free downloadable guide, specifically designed to answer these questions. The eBook guides the reader through the various services offered by Cutting Edge Laser while providing matter-of-fact comparisons of their technology to other common industry machines and processes.
The guide addresses the question that many businesses are asking— "Will this technology work for my metal project needs?" An entire chapter is devoted to explaining the types of metalwork that they are able to produce, from the very large to the very small. Finally, they offer practical reasons as to why they feel laser cutting is the best available metal cutting technology in the industry today.
"As we explain the history, basic functions, and advantages of the technology that we choose to use in our production facility, we hope that you will notice our commitment to precision, versatility, speed, and professionalism," Cutting Edge Laser says.
About Cutting Edge Laser:
CEL Manufacturing was founded in 1995 as Cutting Edge Laser, Inc. with the objective of servicing Puget Sound's laser cutting and sheet metal fabrication requirements. From early on there was a commitment to equip the shop floor with the latest technology in metal processing equipment. Today, their services have expanded from laser cutting to sheet metal fabrication, machining, forming, welding, rapid prototyping, and design and engineer.
Cutting Edge Laser Inc
18620 141st Ave NE # A, Woodinville, WA ‎
http://www.celmfg.com
(800) 235-2595 ‎