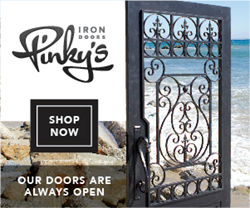 Los Angeles, CA (PRWEB) September 21, 2017
Pinky's Iron Doors Understands the Power of Giving
In keeping with past efforts, Pinky's Iron Doors is helping those affected by recent storms. Giving back is an important part of the company crede.
Los Angeles-based Pinky's Iron Doors has donated to several Texas charitable organizations that are helping the people and animals affected by Hurricanes Harvey and Irma. Giving back is important to the company, regardless of whether disaster strikes right at home or affects our further neighbors.
Two of the recipients of Pinky's Iron Doors' generosity, Austin Pets Alive! and Dallas DogRRR, respond to the needs of animals during natural disasters. As soon as they could following Hurricane Harvey, the people from Dallas DogRRR were on their way to save animals from a flooded facility in Houston belonging to their sister organization, Tall Tails Animal Rescue. They then worked with Austin Pets Alive! to get the animals transported to safety.
To help the people affected by Hurricanes Harvey and Irma, Pinky's Iron Doors has donated to the Greater Houston Community Foundation to help with their work in gathering resources to distribute to agencies that do direct relief work. Thanks to GHCF, disaster relief funds such as those set up after Hurricanes Harvey and Irma are set up quickly, so money reaches those most affected as soon as possible.
About Us: Pinky's Iron Doors serves both Los Angeles-area and national clients, providing ready-to-hang and custom doors for homes and commercial properties. For more information about our selection of iron doors, please contact us at 1-844-843-6677, or use the contact form on our website.