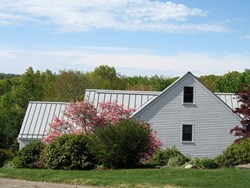 The use of subs usually produces sub-standard results. Our metal roofs are designed and installed to last a lifetime
Stow, MA (PRWEB) July 17, 2013
Classic Metal Roofs, LLC of Stow, MA, one of New England's most respected residential metal roofing contractors, is excited to announce that it has opened a new office in Nashua, NH. The company has always serviced the southern New Hampshire market but felt that an office in the region would be a plus for their customer service oriented business.
"Having a local office in the market that we service is vital to the future success of the company. We want homeowners to know that we have made an investment in them by having an office in close proximity," states Michael Gonet, the senior partner of the firm. The office is located at One Tara Blvd., Nashua, NH. The local telephone number is 603-324-7187.
Aluminum metal roofing is fast becoming the material of choice for homeowners seeking long-term solutions for their roofs. Whether the home has current asphalt roof issues like ice dams, black mold staining, moss growth, or shingles blowing off due to high wind conditions, aluminum metal roofing will solve the problems. Classic offers their product line in several sizes and profiles, including standing seam metal roofing in several widths and metal shingles in multiple profiles, each of these in rust free, energy star rated, lifetime residential aluminum roofing.
Classic's goal is to provide homeowners with "the best roofs under the sun". The company is family owned and operated. The crews that install the metal roofs have an average of 50 years of experience. All of our installers are metal craftsman and employees of the company. Classic does not believe in utilizing subcontractors. "The use of subs usually produces sub-standard results. Our metal roofs are designed and installed to last a lifetime," states Gonet.
To learn more about their line of metal roofing and to see examples of their work, visit http://www.classicmetalroofs.com.
About Classic Metal Roofs, LLC
Classic Metal Roofs, LLC, is considered one of the premier installers of metal roofing here in New England. They are in business to provide their customers with a worry-free roofing future. Their caring, consultative approach hinges on their commitment to providing you, the consumer, with a product that is long lasting, durable, energy efficient, and beautiful, and thus considered "the best roofs under the sun." They service all of southern New England: Massachusetts, Southern New Hampshire, Rhode Island and Connecticut.