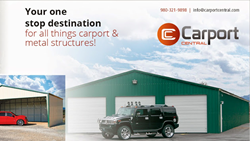 Custom Metals Structures for Enclosures of Any Kind!
Mount Airy, North Carolina (PRWEB) February 25, 2015
Carport Central is pleased to announce the release of its brand new website, http://www.carportcentral.com. Based in North Carolina but serving customers nationwide, Carport Central is a leading source of custom metal buildings. Their offerings include carports, garages, metal barns, RV covers, and workshops. Carport Central's new website provides valuable information about choosing the right custom metal building. The site's detailed buying guides help customers decide on the best features and specifications for their custom metal structure.
"We're thrilled to launch the new Carport Central website, a one-stop shop for metal carports, garages, and other custom metal structures. Our new site was built with the customer in mind. We understand that shopping for a carport or metal structure can be a little overwhelming at first, so we wanted to create an online experience that makes shopping for a new building simple and enjoyable," said Albert Lara, President of Carport Central. "We are excited to bring a whole new approach to carport buying!"
Since each metal building is fully customizable and customers can select the roof style, size, color, and other options they desire, it can be challenging for a new buyer to determine which structure is best for their situation. The Carport Central team draws from their extensive knowledge, experience, and relationships with multiple manufacturers to help customers find the best product for their requirements at the lowest possible price.
"We aren't going for quick sales to make easy money. We want to educate our customers, so they feel informed and empowered throughout the buying process. Our goal is to ensure that our customers come away with a wealth of knowledge about custom metal structures and that they end up with the perfect building for their needs and budget," said Zack McMillian of Carport Central.
About Carport Central
Carport Central partners with manufacturers throughout the United States to provide customers with competitively priced steel carports, garages, barns, workshops, and RV covers of the highest quality. For more information about Carport Central and to explore the custom metal structures they offer, visit carportcentral.com.