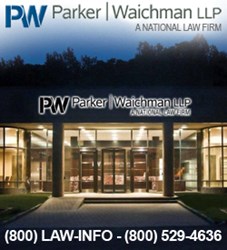 New York, NY (PRWEB) January 27, 2014
Parker Waichman LLP, a national law firm dedicated to protecting the rights of victims injured by defective medical devices, is representing a woman from Maricopa, Arizona who suffered a number of serious health problems. Allegedly, these health issues were caused by the Plaintiff's DePuy Pinnacle hip implant. The firm is suing DePuy Orthopaedics, Inc. and Johnson & Johnson on the Plaintiff's behalf, and filed the suit on December 16, 2013 in the U.S. District Court for the Northern District of Texas (Case 3:13-cv-04892-K, MDL No. 3:11-md-02244).
The Plaintiff was implanted with the Pinnacle Acetabular Cup System around May 7, 2007, according to the Complaint. The Pinnacle device is meant for use in reconstructing hip joints that become diseased due to conditions such as osteoarthritis, rheumatoid arthritis, avascular necrosis (AVN), fracture, and other degenerative conditions. The device is composed of a metal ball that sits on top of a metal stem that is inserted into the thighbone. This metal ball rotates within a cup, modeling the "ball-and-socket" mechanism of a natural hip. The lawsuit alleges that this device releases toxic metal particles when paired with an "Ultamet" metal liner.
The suit also alleges that the Defendants were aware of the Pinnacle's defects, which can cause metallosis, bone erosion, pseudotumors, and tissue death. Patients implanted with the Pinnacle are allegedly subject to high levels of cobalt and chromium that greatly exceed acceptable safety standards when the metal surfaces articulate together. Ultimately, these issues would lead a number of patients, including the Plaintiff, to need a revision surgery. Even though DePuy and parent company, Johnson & Johnson, were allegedly aware of these problems, they never warned patients or their doctors even though more than 1,300 adverse event reports have been submitted to the U.S. Food and Drug Administration (FDA).
The Plaintiff endured severe inflammation, severe pain, bone and tissue loss, reaction to metal debris, a large cystic fluid collection, and elevated cobalt and chromium levels that necessitated the need for a revision surgery, the Complaint states. The lawsuit also alleges that these injuries were caused by the Pinnacle; the Plaintiff is suing for physical and mental pain and suffering, medical expenses, lost wages, and other related damages.
The Complaint highlights the fact that the Pinnacle received clearance through the 510(k) review process, which means that the device may be marketed with virtually no clinical testing under the premise that it is "substantially equivalent" to another, older metal-on-metal hip implant.
Parker Waichman LLP continues to offer free legal consultations to victims of DePuy Pinnacle and other metal-on-metal hip implant injuries. If you or a loved one have experienced premature failure of your implant, or other health problems associated with the Pinnacle or other metal-on-metal hip replacement device, please contact its office by visiting the firm's DePuy Pinnacle hip implant lawsuits page at yourlawyer.com. Free case evaluations are also available by calling 1-LAW-INFO (1-800-529-4636).
Contact:
Parker Waichman LLP
Gary Falkowitz, Managing Attorney
1+(800) LAW-INFO
1+(800) 529-4636
http://www.yourlawyer.com