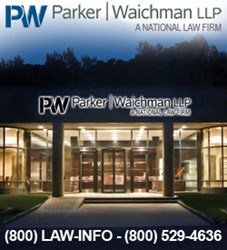 New York, NY (PRWEB) December 11, 2013
Parker Waichman LLP, a national law firm dedicated to protecting the rights of victims injured by defective medical devices, has filed a lawsuit on behalf of a Pennsylvania man implanted with a DePuy Pinnacle hip. The lawsuit was filed on October 18, 2013 in the U.S. District Court for the Northern District of Texas (Case No. 3:13-cv-04219-K) as part of the DePuy Pinnacle multidistrict litigation (MDL No. 3:11-md-02244). DePuy Orthopaedics, Inc. and Johnson & Johnson are the Defendants.
According to the Complaint, the Plaintiff was implanted with a Pinnacle hip on his left side on or about March 8, 2010. The lawsuit alleges that the implant's defective design caused complications, including extreme pain, weakness, and elevated chromium and cobalt levels in his bloodstream. The lawsuit also alleges that the Defendants were aware of the potential for these risks but neglected to disclose them to the Plaintiff, his physician, or the public. The Plaintiff alleges that over 1,300 adverse event reports have been filed with the U.S. Food and Drug Administration (FDA) concerning Pinnacle device failures or complications. The lawsuit also alleges that the defendants are aware that Pinnacle devices may lead to metallosis, biologic toxicity, and a high failure rate.
The Plaintiff alleges that had the Defendants not concealed the Pinnacle device's known defects, early failure rate, known complications, and unreasonable risks, he would not have consented to use of the Pinnacle device in his total hip arthroplasty.
The lawsuit alleges that the Pinnacle is flawed because its all-metal construction causes the shedding of chromium and cobalt particles into the body. Meanwhile, the U.S. Food and Drug Administration (FDA) issued a Safety Alert on January 17, 2013 that acknowledged these risks. The agency also issued new guidelines for metal-on-metal hip recipients, advising that symptomatic patients implanted with these all-metal devices undergo physical exams, diagnostic imaging, and blood metal ion testing. The FDA also proposed new, stricter guidelines mandating manufacturers prove that their devices are safe and efficacious through clinical testing—so-called "premarket approval." The current clearance route, known as the 510(k), simply requires that device makers show that their product is comparable to a previously approved device that is already on the market.
Parker Waichman LLP continues to offer free legal consultations to victims of DePuy Pinnacle and other metal-on-metal hip implant injuries. If you or a loved one have experienced premature failure of your implant, or other health problems associated with the Pinnacle or other metal-on-metal hip replacement device, please contact its office by visiting the firm's DePuy Pinnacle hip implant lawsuits page at yourlawyer.com. Free case evaluations are also available by calling 1-LAW-INFO (1-800-529-4636).
Contact:
Parker Waichman LLP
Gary Falkowitz, Managing Attorney
1+(800) LAW-INFO
1+(800) 529-4636
http://www.yourlawyer.com