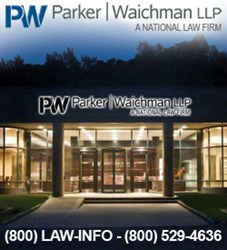 New York, New York (PRWEB) December 17, 2013
Parker Waichman LLP, a national law firm dedicated to protecting the rights of victims injured by defective medical devices, has filed a lawsuit on behalf of a 60-year-old South Carolina woman who alleges that the Biomet M2a Magnum metal-on-metal hip replacement system, with which she had been implanted on both sides, is defective. The implant caused her to suffer pain and other injuries, and caused her to undergo a revision surgery to have the left hip device explanted and replaced. Her husband is alleging loss of the companionship of his wife, as well as economic and emotional injuries. The lawsuit was filed on November 6, 2013 in the U.S. District Court for the Northern District of Indiana, South Bend Division (Case No. 3:13-cv-011665) and is one of many cases pending in the multidistrict litigation (MDL) entitled In re: Biomet M2a Magnum Hip Implants Products Liability Litigation (MDL No. 3:12-md-2391). Biomet, Inc. and Biomet Orthopedics, LLC have been named as Defendants.
According to the Complaint, the Plaintiff received bilateral hip implants—specifically, Biomet's M2a Magnum Hip System, which has a 38-mm M2a ball-and-socket design with a porous-coated lateralized Taperloc femoral device. The lawsuit alleges that the Plaintiff began to suffer from a number of symptoms, including severe groin pain, discomfort, adverse soft tissue reactions, elevated metal serum ion levels, and other injuries. The lawsuit alleges that the Plaintiff underwent revision surgery to remove and replace the left hip device, which had failed.
The lawsuit alleges that by the time the Plaintiff was implanted with the two Biomet devices, the Defendants had full knowledge that more than 100 adverse event reports associated with the device had been sent to the U.S. Food and Drug Administration (FDA); however, the Defendants neglected to advise the plaintiff of this potentially damaging information. Instead, according to the lawsuit's allegations, the Defendants misrepresented the implant as being safe and efficacious.
The lawsuit also notes that the revision surgery to remove the device is costlier, more dangerous, and more painful than the original implantation procedure because there is less bone and tissue to work with after the original device is removed. Revision surgeries also typically require more time to complete than initial hip surgery, require longer healing times, and can lead to increased complication rates and a greater need for ongoing, future medical care.
The FDA noted in a safety communication dated January 17, 2013, that it had placed the entire metal-on-metal class of medical devices under increased scrutiny following mounting reports of high failure rates tied to the all-metal hip devices, as well as reports that the devices can cause elevated levels of metallic debris to be released in patients' bloodstreams. The FDA also released new guidelines for patients implanted with all-metal devices and advised that symptomatic patients undergo regular physical examinations, diagnostic imaging, and metal ion testing.
Meanwhile, recent data from Canada suggests that people who are implanted with metal-on-metal hip devices are likelier to require revision surgery within the first five years of implantation, according to a July 18 CBC News report.
The CBC report also indicated that a Canadian Institutes for Health Information study revealed that patients implanted with metal-on-metal hip implants face a 5.9 percent increased risk of having to undergo revision surgery within the first five years following the original implantation; this, compared to a 2.7 percent increased rate in people implanted with a metal-on-plastic implant device. The metal-on-metal implant design was intended to provide increased longevity and durability, but has neither worked as expected nor as promised, CBC News reported. In fact, during daily activities, including walking, rising, and sitting, the patient's own body weight may cause the implant's metal components to rub against one another, leading to the shedding of microscopic shards from the metal implant into area tissue and the bloodstream. This metallic shedding can cause bone and tissue damage, metallosis (metal poisoning), the development of pseudotumors, and the need for early revision surgery.
Parker Waichman LLP continues to offer free legal consultations to victims of metal-on-metal hip implant injuries. If you or a loved one experienced the premature failure of your implant or other health problems associated with a metal-on-metal hip implant, please contact the office by visiting the firm's Defective Hip Implant page at yourlawyer.com. Free case evaluations are also available by calling 1-800-LAW-INFO (1-800-529-4636).
Contact:
Parker Waichman LLP
Gary Falkowitz, Managing Attorney
1+ (800) LAW-INFO
1+ (800) 529-4636
http://www.yourlawyer.com