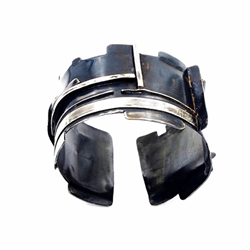 "We're very excited to be debuting our new jewelry collection at the JA New York Show", said Jill Herlands, founding Designer at MetalurJ. "This collection will appeal to women looking for a unique modern look that will help them stand out in a crowd".
New York, New York (PRWEB) March 11, 2016
MetalurJ makes their New York City debut at this year's JA New York Spring show, held at the Jacob Javits Center March 13-15, 2016. "Sticks and Stones" is the first collection by the New York City based designer, Jill Herlands.
With the use of unlikely combinations of semi-precious gems and metals, Herlands has created a collection that offers statement pieces to the modern woman looking for an alternative to common, everyday jewelry designs. MetalurJ designs have been recently highlighted on fashion websites like Polyvore, and in National Jeweler Magazine.
While each handmade design is crafted with the highest quality materials, it is the inventive jewelry design techniques used by Herlands that have recently been described by industry watchers as "Dramatic", "Other-wordly", and "Retro".
"I love to manipulate the raw elements in a design, transforming a flat sheet of precious metal into a piece of three-dimensional, wearable art." Herlands said. "Jewelry should be an extension of a woman's personality, making it more than an accessory, but a part of a modern woman's overall style."
MetalurJ will be showcasing its new jewelry collection and other designs at booth 2570 in the Design District. For more information, high-resolution images, to pull pieces for editorial photo shoots, or to schedule an appointment, please contact Jill Rene at 347-949-8620 or via email at press(at)MetalurJ(dot)com.