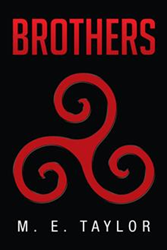 REDDITCH, England (PRWEB) March 04, 2016
In Roman Britain, Verluccus, a native boy, is enslaved and made to serve Gaius Marcius, Roman child. He runs away but is recaptured as a man fighting amongst a gang of renegades. Recalcitrant and obdurate at first, he eventually succumbs to serve Gaius; but while Gaius is obsessed with Verluccus, Verluccus falls in love with his master's sister, Gaia, and she with him.
M. E. Taylor says "Brothers" (published by AuthorHouse UK) was inspired by the Roman archaeology of Britain. Like many natives of Gloucestershire, England, Taylor has long been familiar with the Roman remains in the county. "Roman Archaeology is very popular in Britain and the excavations of Roman sites always arouses much interest," she says.
An excerpt from "Brothers":
The boy was taller than he had expected. He must be – what, twelve? At the very least twelve, a good four years older than Gaius. And sullen too, scowling and defiant – not at all the slave for his precious child. Quite unsuitable. Dangerous, most probably. What had possessed his son to choose this creature?
"Brothers"
By M. E. Taylor
Hardcover | 6 x 9 in | 568 pages | ISBN 9781504998246
Softcover | 6 x 9 in | 568 pages | ISBN 9781504998260
E-Book | 568 pages | ISBN 9781504998253
Available at Amazon and Barnes & Noble
About the Author
M. E. Taylor is a native of Gloucestershire, England. She is a member of the Association for Roman Archaeology and associated with other similar organizations. This is her first book.
AuthorHouse UK Ltd., is an Author Solutions, LLC, supported self-publishing services and a leading provider of self-publishing, marketing and bookselling services dedicated to serving authors throughout the United Kingdom. AuthorHouse UK is committed to providing authors the best self-publishing experience through a wide array of products and services designed to help individual authors realise their unique creative vision. AuthorHouse UK consultants provide guidance to authors throughout the self-publishing process. To date, AuthorHouse UK has released more than 6,500 titles. For more information or to begin publishing a book today, visit authorhouse.co.uk or call 0800 1974150 or follow @AuthorHouseUK on Twitter for our latest news and updates.