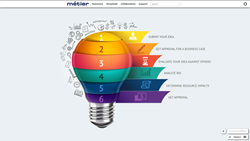 We are offering a totally new approach to workflow automation, one that balances creativity with innovation.
HEALDSBURG, CA (PRWEB) March 18, 2015
Métier, the business management and optimization platform, announced a new capability that integrates powerful workflow automation with team-inspired custom graphics to drive team engagement and streamline business processes.
Business process workflows have typically been created using swim lanes, shapes and diagrams. Many teams have difficulty following these processes because they lack engagement and integration with tools and reports teams need to take action quickly. Integrated in Métier's business management and optimization platform, the workflow automation engine incorporates stunning, interactive graphics to help teams engage with your business process. Métier customers can use graphics in the existing library or create their own. The graphics provide process steps and link to the tools and reports needed to get work done fast and efficiently. Job aids are also incorporated to help guide users in how to accomplish the step.
"With the rise of infographics and visualizations used to interpret data and information, today's project and business teams need a new approach to conveying business processes in an interactive, stimulating way," says Doug Clark, chief executive officer at Métier. "Because of this, we are offering a totally new approach to workflow automation, one that balances creativity with innovation. We give your team a limitless canvas to tell your story, in addition to providing powerful interactive capabilities that teams need to get information quickly. This, in turn, provides unprecedented process improvements and engagement for our customers."
To watch a video of example workflows in Métier PPM, request access here. If you are interested in using or licensing Métier's technology, please contact sales(at)metier(dot)com to sign up as a customer or channel partner.
About Métier
Métier provides an award-winning business management and optimization platform that is built upon a foundation of industry-enhancing patents based on computational semantics. Métier's platform combines project portfolio management software, big data analytics and business intelligence to ensure organizations are getting their ideas to market quickly and making improvements that affect the bottom line. Founded in 1998, Métier works with customers globally, across public and private sector industries. For more information about how Métier can help your organization workforward, visit http://www.metier.com or call 1.877.965.9501.