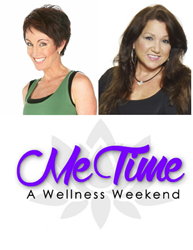 Women of all ages are so busy with work and caretaking, and rarely find the time to take care of themselves.The "MeTime Wellness Weekend" offers the tools for better health,fitness, hormones, nutrition, relaxation, mind-body balance, and beauty.
Arlington, VA (PRWEB) January 21, 2016
Seven of the nation's top wellness, fitness, hormonal health, stress management, mind-body, and hair/beauty experts will join together in Arlington, VA from March 3 - 6, 2016 for the first Me Time Wellness Weekend. The workshop will be held at the Renaissance Arlington Capital View Hotel, one mile from Washington, DC's Reagan National Airport.
Women across America are dragging themselves around, feeling exhausted, tired, achy, brain fogged, anxious, and stressed. Many don't have time to use their gym memberships, make healthy smoothies, or follow beauty advice designed for supermodels and not real women. The Me Time Wellness Weekend is designed for those women who spend most of their time doing things for everyone else -- women who are also always promising themselves to make time to get some exercise, finally get their hormones -- like thyroid, adrenals, and sex hormones -- sorted out, try out healthy new recipes, learn how to meditate, and discover new hair and beauty tips.
The MeTime Wellness Weekend is a unique weekend that is much more than a workshop. It's a lifestyle reboot, a fast-forward to better health and energy, and a chance to connect with other women and wellness advocates for some of the best "Me Time" ever. More information on the weekend is available at the event's website at http://www.metimeweekend.com/about
ABOUT THE ME TIME WELLNESS WEEKEND
The MeTime Wellness Weekend is a chance for participants to learn from and share with leading wellness experts, exploring practical ways to:

lose inches, strengthen joints and muscles, raise metabolism, eliminate toxins, and balance hormones with movement that works, both inside and out
fit fitness into a busy schedule, whether at work, home, or at the grocery store
identify the signs and symptoms of hormone imbalances, and then, how to incorporate the right doctors, experts, treatments and lifestyle changes to get those hormones back on track
eat healthy, energizing, nutritious — but most important — delicious food, without spending hours in the kitchen, or ever going near a leaf of kale!
use natural, integrative and side-effect free approaches to conquer depression, anxiety, perimenopause/menopause, adrenal issues and weight gain
use the power of breathwork for energy, relaxation, stress reduction, detoxification, and happiness
use simple guided meditations to get body and mind speaking the same language, helping achieve peace, healing, gratitude and love
look younger and thinner — and feel confident, sexy and glamorous — with simple changes to hair and beauty regimens
Among the many takeaways, participants of the Me Time Weekend will have: learned easy workout moves they can use to fit in fitness anywhere and anytime; developed a plan to get hormones, hair loss, anxiety and depression under control; and mastered new stress management and mind-body techniques. A detailed schedule of workouts, activities and events included in the Me Time Wellness Weekend is featured online at http://www.metimeweekend.com/agenda
ME TIME WELLNESS WEEKEND PRESENTERS
The Me Time Wellness Weekend presenters include seven of the nation's leading wellness and mind-body health experts, including:
TERESA TAPP – internationally-acclaimed fitness and movement guru, PBS star, and best-selling author of "Fit and Fabulous in 15 Minutes," and founder of the groundbreaking T-Tapp Workouts. T-Tapp helps reduce inflammation, balance hormones, and offers fast, visible inch loss.
MARY SHOMON – New York Times best-selling author of 12 books, including "The Thyroid Diet Revolution," teacher, and thyroid and hormonal patient advocate. Mary has been the About.com Thyroid Expert at http://thyroid.about.com since 1997, and has been featured on Teresa Tapp's popular PBS health programs, and in hundreds of national and international television, radio, magazine and newspaper interviews.
DR. KEVIN PASSERO – Dr. Kevin Passero is one of the nation's leading naturopathic physicians, with expertise in hormonal and neurochemical balance. His integrative approaches combine the best of natural medicine, diet, supplements, and conventional approaches to not only treat — but resolve — frustrating health issues like hypothyroidism, depression, anxiety, sleep problems, perimenopause, and more.
LISA MORETTI – Lisa Moretti is a certified integrative nutritionist, health coach, and a guru of all things food. Lisa is also practical in her coaching -- she is not a "kale and quinoa-only" advocate -- rather -- she knows how busy people eat, and helps clients figure out how to eat healthy AND deliciously, without breaking the bank, owning an own organic farm, or spending hours a day making home-grown gluten-free bread.
LAUREN CHELEC CAFRITZ – Lauren Cafritz knows what it's like to live with the pressure, stress and anxiety of modern life. But instead of letting it control her, Lauren transformed this challenge into a mission: to learn, and then to teach others, how to use a full diaphragmatic breath to live a healthier, happier and less stressful life. Today, Lauren is one of the nation's leading breathwork instructors, with certifications in both Integrative Breathing and Transformational Breath.
DEMO DiMARTILE -- Demo DiMartile knows that we are what we think. And often, what we think is not how we feel. And in the end, the body may not even speak the same language. Guided meditation helps translate, so mind, body and soul all speak the same language. Demo teaches practical, and life-changing guided meditation approaches that anyone can easily master.
BRENT HARDGRAVE – An internationally-renowned stylist, Brent's mission is to unleash the inner beauty of every woman. That goes for women with thinning hair or hair loss, women after menopause or cancer, and women with hormone-impaired hair. His message is not "live with it" — it's "we can make it fabulous!" His innovative dry-cutting techniques and pioneering hair extension work can make even the thinnest hair look thick.
Detailed presenter bios are available at the Me Time Wellness Weekend site at http://www.metimeweekend.com/presenters
REGISTRATION AND INFORMATION: THE ME TIME WELLNESS WEEKEND
The Me Time Wellness Weekend runs from March 3 to 6, 2016 and will take place at the luxurious but affordable Renaissance Arlington Capital View Hotel, a mile away from Washington, DC's Reagan National Airport. More information about the hotel is available at http://www.metimeweekend.com/hotel
To sign up for the MeTime Wellness Weekend, go to the site at http://www.metimeweekend.com/join or call toll-free 888-810-9471. An early-bird workshop rate and discounted hotel rooms are available for participants who register and reserve rooms by February 3, 2016. The MeTime Wellness Weekend includes all workouts and information sessions, as well as a Welcoming Hors D'oeuvres party, buffet lunch, and buffet dinner.
The Me Time Wellness Weekend is also on social media, at Facebook https://www.facebook.com/MeTimeWellnessWeekend and Twitter, https://twitter.com/MeTimeWeekend