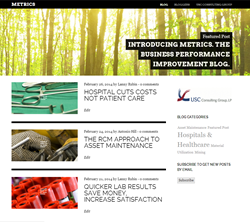 Metrics is a resource for businesses in any industry to take advantage of. Our consultants blog about techniques they've applied and experiences they've had on real client projects, and much of what we do is applicable across industries.
Tampa, FL (PRWEB) March 06, 2014
With 45 years in business, and hundreds of years of combined experience among its consultants, USC Consulting Group (USCCG) introduces Metrics (http://www.metricsblog.wordpress.com). As the blog for business performance improvement, Metrics is meant as a resource for businesses of all industries to gain an understanding of, and leverage the concepts used in business process improvement. As practitioners of Six Sigma, Lean, Value-Stream Mapping, and other techniques, USCCG consultants help clients to improve their financial performance across the entire supply chain, and Metrics represents a way to quickly and easily share that knowledge on a broad scale.
"We had gotten away from our original printed, and mailed newsletter, but we still have plenty of knowledge to share and wanted to do so. Much of what we do is applicable across industries, so all businesses can benefit from it," said George Coffey, CO-CEO of USCCG. "We felt a blog was the best way to communicate with large numbers of businesses, and the name Metrics harkens back to the newsletter, so we were able to keep some continuity as well."
Metrics will not only feature traditional blog posts of opinions and insights from a select group of company bloggers, but also provide easy access to whitepapers and case studies from client projects over the years. Each blogger will serve as a representative from their respective consulting practice or discipline so they'll present their own information, but also those of their team members. This will help to ensure that all blog posts are fresh, timely, and relevant.
Blog readers will be able to subscribe to receive email updates of new blog posts and the mobile-friendly format makes viewing enjoyable from a mobile phone or tablet.
About USC Consulting Group, LP
USC Consulting Group (USCCG) is an operations management consulting firm helping clients improve financial performance with a focus on operational excellence across the supply chain. Founded in 1968, the firm brings experience, enabling technology, and subject matter expertise to implement solutions, not just recommend them. With offices in the United States and Canada, and projects spread across the globe, USCCG has worked in many industries with companies of all sizes, including many in the Fortune 1000. For more information please follow us on LinkedIn or visit http://www.usccg.com.