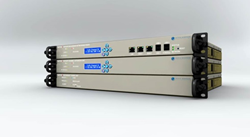 Bill Brown, President and Founder of MSC said, "The broad availability of unlicensed of VHF and UHF TV band spectrum can be immediately put to use meeting industry needs for clear channel broadband spectrum. "
Vista, CA (PRWEB) September 08, 2015
Metric Systems Corporation (Vista, CA) announced that its RaptorX VHF/UHF Unlicensed Broadband White Space Radio received FCC certification to operate in locally available VHF (7-13) and UHF (14-51) TV channels.
RaptorX premiers a new class of wireless networking systems offering network operators longer range and broader coverage unattainable with current WiFi, cellular and microwave systems.
RaptorX is designed from the ground-up to meet the challenging requirements of enterprise and industry of deploying, managing and securing critical national infrastructure in wilderness, rural, suburban and urban geographies.
RaptorX is an ideal backhaul and middle-reach solution for extending IoTs, M2M, security and Land Mobile Radio base-station sites into challenging terrain. With a range extension factor of 4-6 times that of microwave-based technologies, the RaptorX provides the ability to reach near and beyond line-of-sight locations at minimum expense.
Establishing in-structure wireless connectivity is costly and problematic using Wifi and cellular solutions. RaptorX's VHF/UHF spectrum advantage and multi-carrier transmission technology provides the punch-through enabling floor-wide and multi-storied robust connectivity supporting building automation, security, healthcare and integrated public safety systems, cellular extension services and emergency communications.
RaptorX's spectrum advantage extends to economically implementing robust shipboard and marine systems networks where it is impractical, dangerous or simply difficult to reach with copper or wireless LAN systems.
Industry Firsts:
RaptorX introduces a number of White Space technological innovations that enhance operation, security and system reliability:
1. Full operation in all permissible VHF and UHF channels 7-51.
2. Full legal power output
3. Dual independent channel support for increased system reliability and network resiliency.
4. Multiple channel bonding to increase link speed and reliability
5. Access options for TDMA, peer-to-peer ad hoc and CSMA/CA nodes
About White Space Spectrum
The transition from analog to digital broadcasting made available hundreds of unused TV channels. In 2010, the US Federal Communication Commission issued Operating Rules and Equipment Regulations for the unlicensed use of unused TV band channels. Covering 270 MHz of prime spectrum spanning TV channels 2 through 51, nearly every zip code in the US has a minimum of one unlicensed 6 MHz VHF channel and several UHF channels available. Moving from urban areas into the nation's hinterland 10s of unused TV channels are available for unlicensed use to meet the spectrum needs of government and industry alike.
Availability
Production shipments commence 1st quarter, 2016. MSC offers several RaptorX system packages aimed at addressing a variety of range and coverage requirements for professional users. FCC ID #2ABCU-50739.
About Metric Systems
Established in 1992 and headquartered in Vista, California, Metric Systems Corporation designs and sells white space and dynamic spectrum access wireless networking equipment and systems to support the business and mission objectives of government and industry. For more information visit: http://www.metricsystems.com.