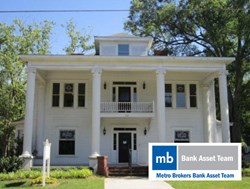 The Metro Brokers Bank Asset Team is more efficient and effective at disposing of bank assets, which allows banks to concentrate on what they do best: Being bankers.
Atlanta, GA (PRWEB) August 19, 2013
The 3,000th listing sold by the Metro Brokers Bank Asset Team was located at 410 East Church Street in Monroe, Ga. This commercial listing – which sold for $305,000 – is a 3-story antebellum house built in 1890, and is now being used as a special event space for weddings, parties and more. The selling agent for the property was Paula Byrd of Metro Brokers' Buckhead office.
Since its inception in February 2010, the Bank Asset Team has managed more than 4,000 properties in a variety of categories: Land, retail, homes, apartments, lots, subdivisions, office space and more. In addition to providing marketing services such as listing and selling, the Bank Asset Team also offers valuation, preservation, property management, HOA, vendor management and more services through a single point of contact.
"Banks are continuing to move towards hiring asset management companies like the Metro Brokers Bank Asset Team that allow them to take a hands off approach," said President and CEO Kevin Levent. "This has reduced the bank's personnel expense and liability by transferring the workload to our company. We are more efficient and effective at disposing of bank assets, which allows them to concentrate on what they do best: Being bankers."
The Bank Asset Team started out with servicing other real estate owned (OREO) assets from FDIC Loss Share institutions, but has expanded to handle their legacy, non-Loss Share assets. Currently, the division handles assets from 15 banks, 12 of which are FDIC Loss Share institutions. While the program began in Georgia, it has since spread nationally with properties focused in the southeast: Virginia, North Carolina, South Carolina, Tennessee, Alabama, Mississippi and Florida.
"Our client engagement model is unique for two reasons," said Joel Strimban, Senior Vice President of the Bank Asset Team. "1) It's a totally integrated model with full-time, dedicated subject matter experts in key areas, and 2) the program is custom designed and optimized to fit each bank's credit policy, goals and objectives. Our bank clients, which consist of some of the largest regional banks in the southeast, have been very pleased with our performance."
About Metro Brokers
Metro Brokers – consisting of two brands: Better Homes and Gardens Real Estate Metro Brokers and Coldwell Banker Commercial Metro Brokers – have a specialized Bank Asset Team to handle assets for banks, lenders, asset managers, and equity funds. The company has managed over $500,000,000 in assets and processes approximately $25,000,000 in new assets each month.
Metro Brokers is currently the largest real estate company in Georgia – and a top 40 real estate brokerage nationally – with more than 1,800 agents and 9,000 units in annual sales.
For more information, visit http://www.metrobrokersforeclosures.com or call 770.390.8111.