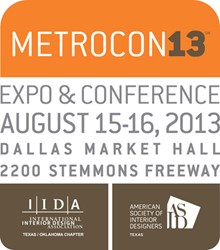 Overall, the support for the show – which serves the corporate, healthcare, hospitality, institutional, multifamily, residential, and retail sectors – was inspiring.
Dallas, TX (PRWEB) September 10, 2013
The volunteer committee of organizers for METROCON13 Expo and Conference is pleased to announce that the regional two-day trade show, which took place August 15 and 16, 2013, in Dallas, Texas, attracted over 2,500 interior designers, architects, facility managers, interior design students, and other vital design industry members from 27 states. The budget-conscious, not-for-profit event concentrates on featuring the latest in products, services and innovations for the Architecture and Design community, and it made some substantial strides in its 11th year.
On the technological side, METROCON debuted a show app for use on iTunes platforms, which allowed users to access event, CEU, and food and beverage schedules, as well as an Exhibitor directory, trade show floor plan, and shuttle routes for area hotels. Additionally, for the first time the organizers were able to offer Exhibitors the option to sign up for lead retrieval services using a smart device app, rendering equipment rental unnecessary and providing Exhibitors with Attendee information within one business day after the show.
For the first time METROCON added a mobile display unit area, supplementing the 400 10'x10' expo booths and making it possible for Exhibitors to show under 274 vendor names. Booths sold out nine days ahead of the official close, and if 12 booths plus the mobile display unit area had not been added for 2013, booths would have sold out 21 days ahead of the official close. By the time the show took place, there were 17 vendors on a list waiting for 18 booths.
Overall, the support for the show – which serves the corporate, healthcare, hospitality, institutional, multifamily, residential, and retail sectors – was inspiring. In less than 90 days, 98% of event sponsorships sold, and in less than two months, 112 CEU presentations were submitted, allowing the organizers to offer 5,400 seats in 54 CEUs and providing Attendees the option to earn up to nine CEUs over two days while still providing eight hours on the trade show floor.
Due to the dedication of the volunteer planning Committee made up of equal members from the Texas Oklahoma Chapter of IIDA [International Interior Design Association] and the Texas Chapter of ASID [American Society of Interior Designers], as well as the generosity of 44 show sponsors – including Landmark Sponsor Business Interiors by Staples and Media Sponsor Design Guide Texas – prices for both exhibitors and attendees are extremely low relative to similar events around the USA.
"My fellow volunteers and I are extremely pleased with the value we bring to the A&D industry, and we hope that other groups across the country recognize the continued success of this event as an example of what joining forces, pooling resources, and acting for the greater good can do," said Presiding Chair, Dana Smith, Affiliate IIDA.
Lastly, the METROCON Committee would like to congratulate the following exhibitors who are the recipients of this year's Pegasus Awards:

Best Overall Exhibit – Clarus Glassboards
Most Informative Exhibit – Paloma Creations
Best Promotional Campaign – Vicostone
Best New Product – Soelberg Industries
Visit http://www.metrocon.info to find links to view photos from this year's event and to sign up to receive exhibitor and attendee notifications in order to stay informed about METROCON14 Expo and Conference, which will take place in Dallas on August 14 and 15, 2014.