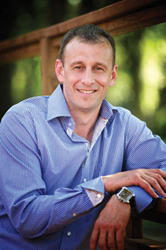 "This is the most advanced indoor location analytics marketing system in the world today," said Glenn Tinley, MEXIA's founder and CEO.
Winnipeg, Canada (PRWEB) August 25, 2014
MEXIA Interactive has partnered with CTIA-The Wireless Association® to showcase the world's largest and most advanced array of indoor sensors at next month's Super Mobility Week in Las Vegas. With more than 125 multi-faceted sensors around the show floor, the system combines highly accurate indoor location analytics with the latest proximity notification and mobile engagement tools.
With this technology, show organizers will be able to instantly monitor and analyze locations of mobile devices on-site in real-time around the Expo Hall and also send informative messages to people who've downloaded the official Super Mobility Week show app and opted-in to receiving notifications based on specific location. The combined analytics will be highly valuable to CTIA as well as showcase this value to any enterprise level organization.
It will be a first-of-its-kind wireless event experience where visitors will be able to see a video wall heat map showing the busiest booths, events and product demonstrations in real time. MEXIA's sensors passively monitor and analyze the locations of mobile devices. Supporting Apple's iBeacon as well as Android devices through an open-BLE antenna, the system will give CTIA highly accurate and reliable analytics alongside the ability to send contextual information to attendees.
"This is the most advanced indoor location analytics and proximity marketing system in the world today," said Glenn Tinley, MEXIA'S founder and CEO. "We've engineered it for large enterprises like airports, convention centers and shopping malls. Our clients need instant and reliable data on thousands of daily visitors. Our proprietary sensor is the only complete solution in the market today – from passive indoor location analytics to industry leading proximity notifications to enterprise Level WiFi-all through one best-in-class hardware device."
MEXIA was also involved in the development the Future of Privacy Forum's Mobile Location Analytics Code of Conduct and will be providing live demonstrations of the Opt-Out process at SMW. The MEXIA Engagement Pavilion (Aisle #6400) will demonstrate the company's complete technology platform. For example, the video wall heat map will show where attendees are gathering and how long they are lingering at various booths around the show floor.
"As people in the industry continue to develop and find new ways to use indoor mobile technology, we are pleased Super Mobility Week will be a test bed of data analytics and mobile engagement technology. There are so many possibilities and it's great to offer attendees a chance to see the most comprehensive deployment of these sensors to date so they can see how it might benefit their businesses," said Robert Mesirow, CTIA Vice President and Show Director.
-30-
About Mexia Interactive
MEXIA Interactive is a mobile engagement and analytics platform that helps to reveal and act on the missed revenue opportunities within any indoor venue. Founded in Winnipeg by Glenn Tinley, the company today is a leading solution for revealing revenue in locations around the globe. Twitter: @MEXIAMobile
About CTIA Shows
CTIA Shows bring together all industries advanced by wireless technology for intense business, learning and networking. Super Mobility Week (http://www.supermobilityweek.com) takes place Sept. 9, 10 and 11, 2014 at the Sands Expo and Convention Center in Las Vegas. Twitter: @ctiashows | Facebook: http://www.ctiashows.com/facebook | LinkedIn: http://www.ctiashows.com/linkedin
Contact:
Jade Penner
jade(dot)penner(at)mexia(dot)ca
1-204-292-8878
Adam Dooley
adooley(at)dooleycommunications(dot)ca
1-204-291-4092