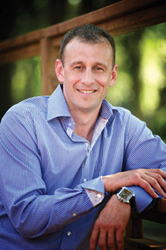 "Video analytics adds a brand new level of accuracy to what was already the world's most complete location analytics and mobile engagement platform," said Glenn Tinley, MEXIA Interactive's founder and CEO.
Winnipeg, Canada (PRWEB) September 03, 2014
MEXIA Interactive is pleased to announce it is adding video analytics to its already industry leading indoor location sensor platform, giving it the power to provide even more real time detail on how, why and where people move around inside airports, convention centers and shopping malls.
MEXIA has developed a sophisticated, hardwired system of indoor sensors that passively monitor and analyze indoor foot traffic. The system allows clients to reveal hidden revenue opportunities by identifying patterns in how people move through large facilities, and by offering clients the ability to leverage this knowledge with proximity marketing.
"Adding video gives our system the unique edge of being able to provide real time alerts to our clients," said Glenn Tinley, MEXIA's founder and CEO. "For example, the system can see when a bottleneck develops at an airport security checkpoint or a retail store checkout. It can alert managers instantly of the need to open additional lanes. Video analytics adds a brand new level of accuracy to what was already the world's most complete location analytics and mobile engagement platform."
MEXIA's platform will be featured at CTIA's Super Mobility Week as part of the official app. Attendees at the world's largest wireless industry show (September 9-11 in Las Vegas) can see the system in action with real time data generating a video wall heat map that will show which booths are most popular and where people are lingering.
The company has been acknowledged as a leader in the growing indoor location analytics and engagement industry for some time. Tinley was part of the development of the Future of Privacy Forum's Mobile Location Analytics Code of Conduct, and was invited to take part in the US Federal Trade Commission hearings on the topic.
MEXIA has built a highly dependable and scalable solution that installs hundreds of sophisticated sensors within large indoor facilities. The system produces data and mobile engagement for indoor spaces where GPS networks can't reach. Each sensor delivers detailed location analytics as well as proximity marketing solutions via Apple's iBeacon and Bluetooth low energy (BLE) for Android devices. Sensors also include next generation (802.11ac) enterprise Wi-Fi capability.
"No other system today offers what Mexia's does," said Tinley. "Ours is reliable, scalable and upgradeable. The industry has begun to see the problems with battery-powered sensors, and the unreliability of getting data via Wi-Fi or cellular networks. We have built a robust system that delivers at the level our customers expect."
Mexia's platform will also be featured at the Future Travel Experience show, September 24-26 in Las Vegas, which will bring together leaders in the air travel industry from around the globe to view the latest concepts in the field.
About MEXIA Interactive
MEXIA Interactive is a mobile engagement and analytics platform that helps to reveal and act on the missed revenue opportunities within any indoor venue. Founded in Winnipeg by Glenn Tinley, the company today is a leading solution for revealing revenue in locations around the globe. Twitter: @MEXIAMobile