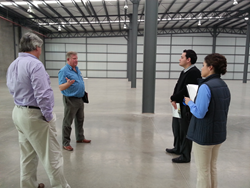 Today Uni-Pol is preparing to begin production by February 2015.
Mexicali, Baja California (PRWEB) December 17, 2014
Mexicali is home to a major expansion for the Uni-Pol Group in the Americas with the opening of a 52,000 square foot metal casting facility that will employ 250 people. With plants in India and China, Uni-Pol saw an opportunity to have a facility in the Americas to serve its growing customer base in both the automotive and medical device industries, including one major automotive and one medical devices companies. Citing the quality infrastructure, trained workforce, and access to markets Uni-Pol selected Baja California's capitol to expand its worldwide operation by opening its first facility in North America.
Following an extensive, 18 month site selection process, Uni-Pol decided to expand its global footprint to include North America by purchasing a facility in Mexicali, B.C. Uni-Pol originally started to explore locating in Mexicali at the invitation of its clients, since Uni-Pol is a supplier of specially casted turbo charger wheels. Seeing the need to locate a facility in the Americas not just for current costumers, but also the growing automotive and other industries in Mexico and the solid base in the United States and Canada, Uni-Pol started working with the Industrial Development Commission of Mexicali (IDCM) to do a full analysis in order to make the significant investment of a new production facility. According to Victor Delgado, General Manager for the new Uni-Pol plant, IDCM was very helpful in providing information for Uni-Pol as it worked through the site selection process, including location assistance, understanding utilities, and getting to know the skills available in the workforce. In July, 2014, Uni-Pol made the decision to invest in Mexicali and purchase an existing industrial building in the Cucapah Industrial Park.
Today Uni-Pol is preparing to begin production by February 2015. According to Mr. Delgado, the plant will ramp up production in three phases over the next 18 months. During that time, equipment will be installed and production will increase by adding more lines to the facility. The special "vacuum casting" process designed by Uni-Pol is being duplicated from the plant in India by the new facility in Mexicali. Delgado forecasts that by mid-2016 to early 2017, Uni-Pol will have the capacity to produce 1.5 million pieces on an annual basis. That capacity will lead to the hiring of 250 residents of Mexicali.
The City of Mexicali is excited to welcome Uni-Pol. Mayor Jaime Diaz said, "Mexicali is pleased that Uni-Pol chose to invest in Mexicali for its first plant in the Americas. We welcome the company to our ever growing automotive industrial sector in the region. The investment this company made in our city shows how Mexicali is competitively positioned in the global market with its strategic location and high quality workforce."
"We are pleased Uni-Pol chose Mexicali to expand its global operations. We thank our local industry for inviting this important supplier of theirs to explore Mexicali as an option. The staff at IDCM should be commended for their work in helping this company learn about our city, select a building to purchase, and see how the educational system in Mexicali produces the workforce Uni-Pol needs to produce their high quality products," said Alfredo Garcia, President of the Industrial Development Commission of Mexicali.
For more information please contact Carlos Cordova, Executive Director of the Industrial Development Commission of Mexicali: ccordova(at)mexicaliindustrial(dot)com - http://www.mexicaliindustrial.com – Toll free (800) 952-8481