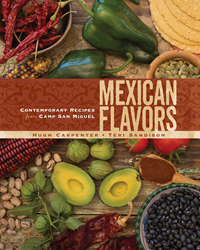 'It is the play of flavors within each bite, and the texture and colors from dish to dish that makes Mexican food so exciting,' said Hugh Carpenter.
Napa, CA (PRWEB) July 30, 2014
Cooking teacher Hugh Carpenter and his wife, photographer Teri Sandison, announce the launch of their cookbook "Mexican Flavors: Contemporary Recipes from Camp San Miguel" available for purchase beginning August 12, 2014. Featuring 115 recipes and 130 photographs, the book takes readers on a culinary and cultural journey through San Miguel de Allende, a UNESCO World Heritage city where the couple have led a cooking school for nine years. Listed at $35.00 and available for pre-order on Amazon, the book can also be purchased in person at two book signings in the Napa Valley; August 24 at Robert Mondavi Winery, and September 13 at Cakebread Cellars.
At the core of "Mexican Flavors," the couple's 16th cookbook together, is its ability to inspire and teach the American cook to utilize locally available ingredients to create fresh and flavorful dishes with a Mexican flair. The book's introductory chapter, Flavor Building Blocks, defines key ingredients and gives tips on variety, sourcing, storage, and preparation. The collection of recipes tantalizes and inspires both seasoned and amateur cooks with cherished classics such as Guacamole, Sopa Azteca (Tortilla Soup), and BBQ Chicken with Mole Sauce, alongside gastronomic surprises including Banana Salsa, Quesadillas with Papaya and Brie, and Fallen Kahlua Chocolate Cake with Strawberry Coulis.
Carpenter has built his career on adding innovative twists to classic international dishes and this newest work is in this same vein; refreshing dishes with contrasting flavors and bold colors that capture the essence of Mexican cooking. In true Carpenter style, unexpected combinations abound when racks of lamb are seasoned with coffee, chiles, and chocolate, or when Vietnamese rice paper is filled with shredded apple and chipotle chile.
"What has always appealed to me about Mexican cooking is the complex layering of flavors," said Carpenter. "The taste sensation in one bite may include buttery avocado, fragrant cilantro, the long lingering flavor notes from dried red chiles, the tartness of lime, and the rich smoothness of Mexican sour cream. It is the play of flavors within each bite, and the texture and colors from dish to dish that makes Mexican food so exciting."
In addition to his integrative recipes, Carpenter is also known for his rigorous recipe tasting methods and thoughtful tips that put even the most amateur cooks at ease. After being tried multiple times in his home kitchen and international cooking schools, the recipes are sent to a group of home cooks scattered around the country.
"I approach recipe writing the way a nation drafts a treaty - every bit of work makes a difference," says Carpenter, who indicates ways to prepare in advance and specific yields for each recipe. "I leave nothing to chance."
Sandison, an acclaimed food photographer, brings the recipes to life with vibrant images that capture the rich experiences of their cooking school, as well as the cultural life of San Miguel and the surrounding region. Walk through the farmer's markets, watch the people go by on the Jardin, and see behind the doors of old colonial homes without having to pack a suitcase. Sandison, whose attention to detail and authenticity match Carpenter's fail-safe recipes, searched high and low for the perfectly shaped Pasilla peppers and waited months to coordinate peak produce ripeness for the book's beautifully bold cover shot.
Mexico's allure began for the couple long ago when the two traveled during their high school and college years, but it was in September 2000 when the love affair with San Miguel was sparked. What started as a quick pit stop with friends turned into five nights of parties, exploring cobblestone streets, and the purchase of a historic colonial home. Carpenter and Sandison visited frequently, their love for the city and relationships with locals blossomed, and in 2006 they offered their first of many cooking schools.
"Hugh and I both fell in love with San Miguel – its warm and friendly people, the sense of history, the grand architecture, and the vibrant art scene," said Sandison, whose pictures punctuate the recipes with local color. With this book ,"We wanted to share our knowledge of the rich history of the region, along with the charms of the contemporary life."
Carpenter and Sandison have a long history and friendship with the Robert Mondavi Winery, where the book's first public event will be held on Sunday, August 24 from 3:00 p.m. to 4:30 p.m. The signing is free and will include a wine and cheese reception in the picturesque Vineyard Room. The pair moved to the Napa Valley full-time in 1990, and worked as adjunct instructors at The Culinary Institute of America at Greystone, and built their first home near the Mondavi winery.
"Imagine two fabulous artists in one book; Hugh with his creativity exiting south of the border, his cookery on a new trail, and Teri with her fabulous, evocative photography," said Margrit Mondavi. "[The book is] an absolute winner! An absolute must to add to our collection of treasures."
For more information about Carpenter, his books, and cooking schools, visit http://www.hughcarpenter.com. For more information about Sandison and her award-winning photography, visit http://www.terisandison.com.
###
About Hugh Carpenter
Hugh Carpenter is one of the most popular and entertaining cooking teachers in America. In 38 years of teaching, more than 100,000 students have attended his classes in cooking schools across North America. In 2010, Carpenter was awarded 'Cooking School Teacher of the Year' by the International Association of Culinary Professionals. Carpenter is also the author of 16 cookbooks, all photographed by his wife, Teri Sandison. Known for his inspiring fusions, rigorous testing methods, and meticulously thorough recipes, he has received many accolades for his publications; "Pacific Flavors" received the International Association of Cooking Professionals "Best Asian Cookbook" award in 1988, "Chopstix" was nominated Most Beautiful Cookbook of 1990, and "Fusion Food Cookbook" was nominated for a James Beard award in 1994. Carpenter and his wife Sandison currently live in the Napa Valley and teach several week-long cooking camps in Napa and San Miguel del Allende in Mexico. To learn more about Carpenter, visit http://www.hughcarpenter.com.
About Teri Sandison
Teri Sandison holds a Fine Arts degree with an emphasis in painting and drawing from the University of California, Los Angeles. She later specialized in photography, and received advanced training at Art Center College of Design. Sandison focused on food and wine still-life photography, opened a Hollywood studio in 1979, and served as a photography faculty member at Art Center in Los Angeles. She and her husband Hugh Carpenter later moved to the Napa Valley and she opened a food and wine advertising photography studio. She has photographed more than 60 cookbooks, including 16 with Carpenter as author. Sandison earned the Who's Who of Cooking Platinum Plate award as Best Food Photographer in 1989, the IACP nomination for Best Food Photography in 1990, and a James Beard Award nomination in 1995. She has spoken about and exhibited her photography in numerous galleries around the country including the Portland Art Museum, the James Beard House in New York, the Vorpal Gallery in San Francisco, and the Smithsonian Institute in Washington D.C. To learn more about Sandison, visit http://www.terisandison.com.