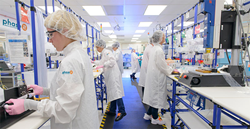 The labor force appears to be abundant and capable. Being a finished goods contract manufacturer of medical devices, cost is a huge deal for us, as is proximity to the United States.
Tijuana, Baja California (PRWEB) March 02, 2015
When Phase 2 Medical (Rochester, NH), a medical device contract manufacturer of single-use, started exploring the idea of expanding their operations to a cost effective location the company was set to go to Costa Rica. But after a lot of examination Phase 2 had no doubt that Mexico's Medical Device Manufacturing environment was the best nearshore location for their new facility.
"We found that buildings were readily available, and business and labor costs were better than in Costa Rica. We [also] ruled out China because it was not a good fit. Beyond the political situation and rising labor and shipping costs, it was too far away for us to manage." Shares CEO Adam Prime.
Just south of San Diego, California, Tijuana has an over 30-year history in medical device manufacturing and is highly regarded as a major global hub for medical device manufacturing. Boasting a 50,000 person-strong workforce directly serving the 70 companies operating in the region, the medical device industry in Baja California represents the largest concentration of companies and of job creation in Mexico. Mexico is also the fifth largest exporter of medical products in the world, with 50% of these exports coming out of Baja California manufacturers.
"Our customers are looking for more vertical integration. The new nearshore plant and our new capabilities in medical injection molding are significant milestones in Phase 2's growing abilities to meet and even exceed our client's expectations; while also attracting new customers seeking high-quality contract medical manufacturing," Says Technical Manager-OUS, Ben Prime.
With global medical device outsourcing forecasted to reach more than $50 billion by 2020, there are no shortages of new markets and new customers to tap into. Strategic location is now just as crucial as your marketing and sales force. With an average of 15% production cost savings for OEMS who outsource to CMOs, Phase 2's manufacturing expansion to Tijuana has placed them at the center of the industry. With the trending best practice of the "One Stop Shop," medical device OEMs are now seeking contract manufacturers with a global footprint and an increased breadth of services and capabilities.
"Phase 2 was set up in Tijuana in months, and the only way it was possible was through the efforts of CPI. CPI visited our plant in New Hampshire to get an excellent understanding of what we do, how we do it, the space we needed, and the level of expertise required by our labor force." Adds Ben.
Working with an administrative and shelter services firm is the new best practice for expanding manufacturing operations outside of the United States. Manufacturers gain a strategic and cost effective advantage working with companies like CPI who handle the entire process of exploration, cost analysis and complete set-up. Hiring in-house site or expansion teams just isn't cost effective anymore, especially including the added cost and time spent navigating and complying with a foreign country's business regulatory requirements. CPI offers manufacturers a unique and innate advantage over an in-house team: the local knowledge, expertise and established network of partners.
These details allowed them to search the available real estate, as well as calibrate themselves on what style of employee Phase 2 requires.
About Phase Medical:
A medical device contract manufacturer of single-use, disposable medical devices offering turnkey medical manufacturing for products that require product development, cleanroom injection molding, cleanroom manufacturing, medical assembly, testing, medical packaging, shipping, and sterilization services. FDA registered and certified to ISO 13485 with ISO Class 8 clean rooms at global facilities at both New Hampshire and Tijuana facilities.
For more information visit: http://www.phase2medical.com
About Co-Production International:
Strategically headquartered in San Diego, CA, and is the premiere Administrative Services Provider in Mexico. Through our Shelter Program our role is to handle the complete set-up of your operation and manage the day-to-day administrative duties in accordance with Mexican regulations allowing you to control and focus 100% on manufacturing.
For more information visit: http://www.co-production.net