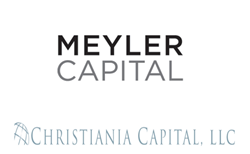 You can no longer rely solely on relationships to source capital; you need to...
New York, NY (PRWEB) November 12, 2014
Meyler Capital and Christiania Capital have announced a partnership under the Meyler brand. The partnership is a direct response to the JOBS Act and the SEC's July 2013 adoption of amendments to Regulation D ("Rule 506(c)"), which allows for the offering of private securities through means of general solicitation, provided certain requirements are met.
Tim O'Leary (Managing Partner, Christiania Capital) said: "Christiania has the experience, operating processes, and relationships necessary to source capital for institutional-quality alternative investment managers. In aligning with Meyler's brand platform and marketing prowess, we will be more effective as placement agents."
"It really does represent the evolution of the placement industry," said Kyle Dunn, President and CEO of Meyler Capital. "The alternative investment industry is maturing, and sourcing capital for fund managers is getting harder. You can no longer rely solely on relationships to source capital; you need to leverage technology, modern marketing methodologies, and a variety of different channels if you are going to be successful."
________
Headquartered in Vancouver, Meyler Capital leverages modern marketing methodologies, technology and a robust network of registered agents to source capital for alternative investment managers. Meyler's marketing-centric approach has broken new ground in terms of how the capital placement sector thinks about the asset gathering process. For more information, visit http://www.meylercapital.com and http://www.meylercreative.com.
Christiania Capital offers strategic advisory and third-party marketing services (through a registered broker-dealer) to asset managers in the alternative investment community. Averaging 19 years of global capital markets experience per professional, Christiania colleagues have sourced over $2 billion in capital for a variety of fund managers and other investment opportunities. The team employs a focused and methodical process in assisting clients through the development of dynamic fund marketing tools and providing services designed to improve the effectiveness of their asset gathering efforts.