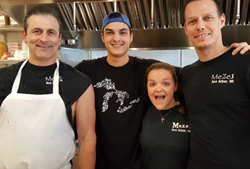 "It's very convenient to stop by between classes and grab a quick bite, or for students to meet friends or classmates for a casual, affordable dining experience."
Ann Arbor, MI (PRWEB) October 27, 2015
"The new website also features menus for take-out delivery, in-restaurant dining and off-premises catering," said Dimitri Roumanis, co-owner of Mezes Greek Grill, along with partners Stavros Sianos and Stathis Govathsos. "As Ann Arbor natives and recent University of Michigan graduates, me and my twin sister Aphrodite, who works at Mezes, know what students and professionals like, which is top-quality, authentic Greek street food using the finest ingredients."
In fact, for over half a century the Roumanis family has been satisfying the palates of University of Michigan students, professors and parents alike, as well as local residents and professionals. Mezes uses whole lamb and beef supplied by a local butcher, seasoned with the Roumanis family recipe and then hand-stacked on the spit for its revered gyros. Mezes also offers spanakopita (spinach pie), souvlaki (meat on a skewer), signature salads and baklava.
"I wish we had the grill here when I was a student," said Aphrodite. "It's very convenient to stop by between classes and grab a quick bite, or for students to meet friends or classmates for a casual, affordable dining experience."
About Mezes Greek Grill
Dimitri Roumanis, Stavros Sianos and Stathis Govathsos established Mezes Greek Grill after they noticed a lack of quality Greek cuisine in Ann Arbor. Many of the restaurant's recipes are those that the gentlemen grew up eating both here in the states and in their familial villages in the historic region of Lakonia, Greece. For more information, please call (734) 369-2204, or visit their Facebook page. Mezes Greek Grill is located at 715 N. University, Ann Arbor, MI 48104.
About the NALA™
The NALA offers local business owners new online advertising & small business marketing tools, great business benefits, education and money-saving programs, as well as a charity program. For media inquiries, please call 805.650.6121, ext. 361.