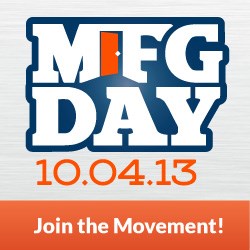 Bead's goal is to prove that manufacturing can be innovative, high-tech, and engaging.
Milford, CT (PRWEB) September 19, 2013
Bead Industries, Inc., a manufacturer of electronic contact pins for the automotive, telecom, and connector industries, located in Milford, CT, has joined the Manufacturing Day Movement. On Friday, October 4th, Bead is hosting a factory tour in honor of Manufacturing Day. While the tour is open to the general public, it is likely to appeal most to students, engineers, customers, vendors, and prospective employees.
During the tour, visitors can learn about Bead's unique swaging process, a metalworking method that is virtually scrapless and can produce precision parts quickly and inexpensively.
As stated by The Fabricators & Manufacturers Association, International, "MFG DAY addresses common misperceptions about manufacturing by giving manufacturers an opportunity to open their doors and show, in a coordinated effort, what manufacturing is — and what it isn't."
Bead's goal is to help debunk the negative images of manufacturing with its "smokestacks and lunch pails" and prove that manufacturing can be innovative, high-tech, and engaging. If we can speak to the next generation, we can address some of the largest challenges of manufacturing, such as the shortage of skilled workers, to ensure its continuity.
Those interested in visiting Bead can register for the tour as late as Thursday morning. Light refreshments and a brief presentation by the CEO will follow.
About Bead Industries, Inc.
Bead Industries is comprised of two divisions, Bead Electronics and Bead Chain, and a wholly-owned subsidiary, McGuire Mfg. Company located in Cheshire, CT. Founded in 1914, Bead Industries developed and manufactured Bead Chain® for electric light pulls. Using the same innovative metal working process, it began fabricating contact pins for the electronics industry in the mid-1920s. McGuire, which designs and distributes commercial grade plumbing trim, was acquired in 1972.