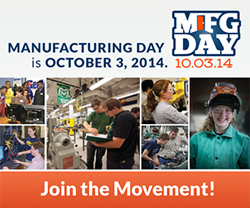 "National Manufacturing Day provides us with an opportunity to showcase not only Hagie Manufacturing but the future of manufacturing in the U.S." says Casey E. Sherwood, HR Recruiter at Hagie Manufacturing
Fort Dodge, IA (PRWEB) September 30, 2014
The National Manufacturing Day planned at Hagie Manufacturing Company in Clarion, IA for this Friday, October 3rd will include plant tours, door prizes, games and food and refreshments. Hagie Manufacturing Company is an excellent example of a modern day manufacturing facility and the future of manufacturing in the U.S.
By providing crop protection solutions to customers in the form of high-clearance sprayers, Hagie Manufacturing Company is a leader in the agricultural industry. After introducing the world's first self-propelled sprayer in 1947, Hagie Manufacturing Company has continued to be a pioneer in the industry with innovations such as front-mounted booms, hydrostatic drives, and hydraulically-adjustable booms. For more than 65 years, the Hagie family has operated Hagie Manufacturing Company with integrity. By putting the company and employees' best interests ahead of their own, this has led Hagie Manufacturing Company to become one of 41 organizations across the world to make the WorldBlu list in 2014. Among this recognition, Hagie Manufacturing Company was also listed #6 on Top Workplaces in Iowa in 2013. Hagie Manfuacturing workforce includes departments in house from Manufacturing (Fabrication, Assembly, Receiving, Welding, and Paint) to Engineering, Marketing, Tooling, Maintenance, Quality, Accounting, IT, and HR.
A foundation, with values built around employees, customers, and innovation, inspires sustained growth and success. Hagie Manufacturing Company is committed to providing state-of-the-art crop protection solutions, while delivering a superior customer experience, and continuing to build on family-owned traditions and values.
Senator Beall and Iowa Central Community College President Dr. Dan Kinney will speak around 3:00 that day on how modern manufacturing, like Hagie Manufacturing, is the backbone of economic development. Jobs created in these manufacturing facilities require a highly skilled labor force that also include high wages. Jobs that require skills in electrical and mechanical technologies, welding, engineering and design technologies, robotics and automation are just a few of the areas needed in today's workforce. Iowa Central Community College provides the classes and training for these high skilled jobs.
"National Manufacturing Day provides us with an opportunity to showcase not only Hagie Manufacturing but the future of manufacturing in the U.S." says Casey E. Sherwood, HR Recruiter at Hagie Manufacturing. "We welcome all interested individuals in the community along with parents, business owners, job seekers and the media to take a tour and see firsthand what a modern facility looks like."
The event is made possible through partnerships with Elevate Advanced Manufacturing and Department of Labor Employment and Training Administration.
Iowa Central Community College is located at One Triton Circle, Fort Dodge, IA and serves the nine counties of Buena Vista, Calhoun, Greene, Hamilton, Humboldt, Pocahontas, Sac, Webster and Wright. For more information, you can contact Lindsay Henderson at 515-574-1973 or at henderson_l(at)iowacentral(dot)edu. Iowa Central Community College's website is http://www.iowacentral.edu.