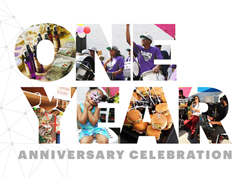 MGB POPS has provided thousands of Brownsville residents with access to budding eateries, quality retail options, live performance and community events.
Brooklyn, NY (PRWEB) October 14, 2015
Mother Gaston Boulevard POPS (MGB POPS) is celebrating its first year of community development and commitment in Brooklyn's Brownsville section, Saturday, October 17. The seasonal marketplace will mark the milestone with a festive afternoon of entertainment by hip-hop violinist Shayshan "Phearnone" MacPherson, Jazzy Jumpers, and performance collectives Green Earth Poets Café and Music Heals, along with resident DJ King. There will also be vendor samples and discounts and giveaways.
The celebration will be held as part of the third annual HOPE Summit, in conjunction with the Mother Gaston Boulevard Better Block Day. The summit provides a week-long focus on bringing Brownsville residents together to activate a better, more active and involved community.
"We're excited to celebrate this milestone in the neighborhood. MGB POPS was birthed as an idea at HOPE Summit two years ago and has continued to develop as a cornerstone space in the community," said Cherisse Abasali, MGB POPS Marketplace Coordinator for Community Solutions.
MGB POPS first opened its doors in October 2014 as a direct response to Brownsville residents' request for more high-quality community spaces and alternative retail options. Spearheaded by New York City Economic Development Corporation and Community Solutions (NYCEDC), its once-vacant 2,500 square-foot city-owned lot was transformed into a premier retail and community destination for area residents.
Over the past year, MGB POPS has provided thousands of Brownsville residents access to local budding eateries, jewelry, crafts and creative wares by local vendors. Past and present vendors include: Made In Brownsville, Honeybee Face & Body Art, JuJu's Box, Bargain Boutique BK, Everything Sticks & More Catering, Poshe Fashions, Ancient Blends Naturals by Yendys, House of Juice, Cocoritehouse art/deco, B Walker Shoes and Blessit Couture Clothing Designs. In addition to its weekend marketplace, the community-centric site also hosts live arts and music performances along with community workshops and events throughout the week.
MGB POPS will host its "MGB POPS: One-Year Anniversary Celebration", Saturday, October 17, from 2-7pm at its outdoor space located at 425 Mother Gaston Boulevard in Brooklyn, NY. The event is free and family-friendly. For more information, visit mgbpops.com.
##30##
About NYCEDC
New York City Economic Development Corporation is the City's primary vehicle for promoting economic growth in each of the five boroughs. NYCEDC's mission is to stimulate growth through expansion and redevelopment programs that encourage investment, generate prosperity and strengthen the City's competitive position. NYCEDC serves as an advocate to the business community by building relationships with companies that allow them to take advantage of New York City's many opportunities. Visit NYCEDC to learn more about NYCEDC projects and initiatives.
About Community Solutions
Community Solutions is an international non-profit organization working toward a future without homelessness, where poverty never follows families beyond a single generation. We adapt the best tools and technologies from multiple sectors to help communities solve their most urgent social problems. To learn more, visit cmtysolutions.org.