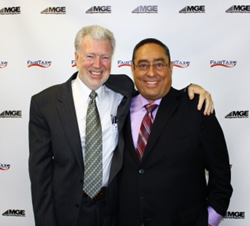 If the FairTax becomes law small businesses like ours will thrive and we will finally be able to give our employees much deserved raises. They will receive their entire paycheck...
St. Petersburg, FL (PRWEB) September 18, 2014
MGE Management Experts Dental Clients from across America gathered in August to hear AFFT (Americans For Fair Taxation®) Chairman and President, Steve Hayes, discuss the current state of the US economy and how FairTax® H.R.25 / S. 122, "The FairTax Act of 2013" will rid them of income and corporate taxes that are strangling their growth and the economic growth of their communities.
"The FairTax Plan is a comprehensive tax reform proposal that replaces all federal corporate, income and payroll-based taxes with a single rate national retail sales tax. The plan includes a prebate that ensure no American pays federal taxes on spending up to the poverty level, and provides dollar-for-dollar a federal revenue replacement. It taxes only what we choose to spend on new goods or services, not on what we earn," said Hayes.
Hayes further explained that H.R. 25/S. 122 is nonpartisan legislation that abolishes all federal personal and corporate income taxes, gift, estate, capital gains, alternative minimum, Social Security, Medicare, and self-employment taxes, and replaces them with one simple national retail sales tax that is administered primarily by existing state sales tax authorities. The IRS, no longer needed, would be disbanded and defunded. Fair, efficient and transparent, it is an intelligent solution that will address the frustration and inequity of the current tax system while collecting as much or more than the current tax code.
Currently, 100 million people pay taxes based on their income. Under the FairTax, "everyone" (about 300 million consumers) would pay taxes based only on their consumption.
As reported by Chris Matthews in the September 8, 2014 issue of Fortune, a new survey from Harvard Business School shows a frightening picture for the health of small business in America and its competitiveness. They questioned thousands of Harvard alumni to get a sense of what business leaders feel is holding the economy back.
The survey data revealed large and midsized firms and highly skilled individuals are prospering, but middle and working class citizens are struggling, as are small businesses. "…And I think the reason for this is that small businesses are disproportionately affected by high regulatory costs, legal costs, a deteriorating infrastructure and high corporate taxes," said Michael Porter, professor and lead researcher on the competitiveness survey
"The Harvard Survey aligns with own research and what our supporters who own small businesses tell us every day," said Hayes.
"If the FairTax becomes law small businesses like ours will thrive and we will finally be able to give our employees much deserved raises. They will receive their entire paycheck and can determine for themselves when and how much to purchase and pay taxes on. Equally important is that corporations like Burger King will stay in the U.S. and the trillions of offshore dollars could come home," said Luis Colon, CEO MGE Management Experts and host of the event.
About Americans For Fair Taxation
Americans For Fair Taxation (AFFT) was formed in 1995. It is a nonpartisan 501(c)(4) grassroots organization solely dedicated to providing education on the FairTax (H.R. 25 /S. 122) to the citizens, elected officials and candidates for public office, regardless of party affiliation. Chairman and President Steve Hayes is a self-described "recovering" tax attorney. He has spent considerable time and resources investigating alternatives to the income tax. Based on his research, he determined the best solution was to eliminate the income tax and the IRS and replace them with a national retail sales tax collected by the states. AFFT does not advocate the election or defeat of one candidate or political party over another. For more information, visit http://www.fairtax.org Fire Up The Economy Video at http://www.youtube.com/watch?v=QRpWir4eDrs
About MGE Management Experts
MGE Management Experts, Inc. has been in operation since 1997 and is located in St. Petersburg, FL. It is a BBB Accredited Business since 2011 with an A+ rating. CEO Luis Colón and his partner Dr. Greg Winteregg have led MGE in training tens of thousands of dentists on such subjects as management, case acceptance, marketing, communication, executive skills, financial planning and leadership. The training is based on the administrative technology of L. Ron Hubbard that is used in more than 100,000 companies and organizations across the globe to their benefit and prosperity. For more information call 727-530-4277 today or visit http://www.mgeonline.com.
Source: The Slow Decay of American Economic Competitiveness http://fortune.com/2014/09/08/us-economic-competitiveness/