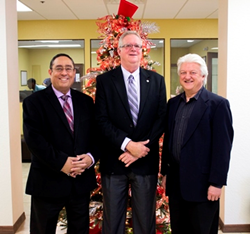 It was shocking to learn that there are so many chronically hungry children right here in Pinellas County... I would like to challenge each Pinellas County Business to donate to the Nourish to Flourish Program
St. Petersburg, FL (PRWEB) December 12, 2014
MGE Management Experts Execs and Staff along with CEO Luis Colón and his partner Dr. Greg Winteregg, raise funds for the Nourish to Flourish Program to help feed 1,370 chronically hungry children in Pinellas County. The donation was presented to Pinellas County Public Defender Mr. Bob Dillinger November 24, 2014, to kick off the holiday season.
"Nourish to Flourish" is an outreach program of the Pinellas County Public Defender's Office in partnership with the Beth Dillinger Foundation to feed chronically hungry children. A chronically hungry child is defined as a child who goes to bed hungry or who has insufficient food on the weekend. The program works during the school year when the Summer Programs are not running.
At this time, there are approximately 7,000 children in Pinellas County in this category. The "Nourish to Flourish" program can feed a hungry child for the weekend for under $4 with quality, nutritional food in a wrapped tray. The Public Defender's office, in conjunction with the Pinellas County School Board, is providing food for chronically hungry children at selected schools.
"Our goal is that no child in our area suffers from hunger. Currently, we are serving almost 1,500 of the 7,000 who are in need so a lot more help is required to meet our goal," said Mr. Dillinger.
"It was shocking to learn that there are so many chronically hungry children right here in Pinellas County. Over 40,000 businesses make their home here, and if we all worked together in a shoulder to shoulder effort we could provide enough food for each of these children overnight. I would like to challenge each Pinellas County Business to donate to the Nourish to Flourish Program," said Mr. Colón.
$160.00 will provide weekend food for one child for the entire school year. Any size donation is accepted and appreciated whether for one meal for one child, to one child for one school year or for those in need in an entire school.
Businesses or individuals wishing to help feed the hungry children in Pinellas County can go to Nourish to Flourish at the Beth Dillinger Foundation website - http://www.bethdillinger.org/nourish_to_flourish.html or call the Public Defender's Office at (727) 464-6516
Remarkably, there are absolutely no administrative costs associated with the Beth Dillinger Foundation. Its officers and directors are volunteers donating their time and effort to support the organization and the children they serve. All donations are earmarked and utilized specifically for the children. Fundraising events and administrative needs to promote the organization are provided by our generous sponsors. All donations are tax deductible.
About MGE Management Experts
MGE Management Experts, Inc. has been in operation since 1997 and is located in St. Petersburg, FL. It has been a BBB Accredited Business since 2011 with an A+ rating. CEO Luis Colón and his partner Dr. Greg Winteregg have led MGE in training tens of thousands of dentists on such subjects as management, case acceptance, marketing, communication, executive skills, financial planning and leadership. The training is based on the Hubbard Management System as recognized by the Hubbard College of Administration International that is used in more than 100,000 companies and organizations across the globe to their benefit and prosperity. For more information call 727-530-4277 today or visit http://www.mgeonline.com.