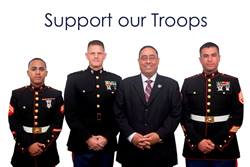 These deaths are appalling and unacceptable. I think there needs to be some immediate and obvious steps taken that can help address this.
St. Petersburg, FL (PRWEB) November 04, 2014
MGE Management Experts CEO, Mr. Luis Colón, is supporting DC Strategic Solutions (DCSS) in demanding that more accurate testing and diagnosing be done to protect the health and lives of veterans as an alarming number of them are committing suicide every day.
Per a V.A. report, approximately 22 veterans take their lives every day. The Center for Public Integrity reports, "49,000 veterans (all wars) killed themselves from 2005-2011 – more than double the rate of the civilian population."
"These deaths are appalling and unacceptable. I think there needs to be some immediate and obvious steps taken that can help address this," said Mr. Colón, also a Veteran.
Veteran's symptoms such as anxiety, depression, pain and sleep disorders are being treated with powerful addicting opioids and psychiatric mediations which seem to be a prescription for disaster when looking at their suicide rates.
"Soldiers' normal reactions to the extremely abnormal situations they experience are now being labeled as a mental illness. Chemical straight jacket (drugs) should not be used for those reactions" said Mr. Colon.
In addition to battle conditions, Veterans are also exposed to many chemical toxins known to negatively impact the endocrine system and cause a host of medical disorders. When combined with nutritional deficiencies and other true medical conditions, these symptoms can mimic psychiatric disorders such as Post Traumatic Disorder (PTSD). Researchers have found that many mental health disorders are in fact unknown medical conditions that are mimicking psychiatric disorders and or making them even worse.
"Doctors are supposed to rule out any true biological causes to what appears to be a psychiatric disorder, prior to making a diagnosis and definitely prior to handing out a psychiatric medication. However, just speaking with veterans and handing them psychiatric drugs is being reported as common practice. This behavior is at best a band aid to cover up a problem, and at worst, is adding fuel to a fire that will explode," said Dr. Toby Watson, a DCSS associate, and Past Executive Director and current Board Member of the International Society for Ethical Psychology and Psychiatry.
According to Human Rights Watch (http://www.hrw.org), an estimated one million U.S. veterans take prescription opioids for pain, and nearly half of them are using those drugs chronically.
"This underscores the point that correct initial rule out testing must be done so we know more accurately what might be the source of the presenting problem or chief complaint. What is being reported is that the V.A. tends to use drugs to alleviate pain and other symptoms instead of eradicating the cause of their pain, whether it be physical or emotional. Pain is not the cause of the problem; it is a red flag signaling that there is something not right within the person or their psyche. If you get rid of the signal, you lose the ability to find a true solution to their problem," said Dr. Watson.
DC Strategic Solutions is working with mental health specialists, medical practitioners and integrated health experts who agree that proper initial testing for underlying physical causes must be mandated as an initial step prior to the prescription of an opiate and or psychiatric medication being prescribed. This is especially the case when a veteran acknowledges they have been exposed to chemical toxins, toxins that can negatively impact the endocrine system. Chemical toxins when combined with nutritional deficiencies can mimic symptoms of Post-Traumatic Stress Disorder (PTSD).
"For the veteran's well-being, let's take a bit more time and perform the needed tests that can potentially expose the actual source of some of their mental suffering, and most importantly, lets mandate these tests because it will help save the lives of these deserving warriors,", said Mr. Colón.
About MGE Management Experts
MGE Management Experts, Inc. has been in operation since 1997 and is located in St. Petersburg, FL. It is a BBB Accredited Business since 2011 with an A+ rating. CEO Luis Colón and his partner Dr. Greg Winteregg have led MGE in training tens of thousands of dentists on such subjects as management, case acceptance, marketing, communication, executive skills, financial planning and leadership.
About DC Strategic Solutions
DC Strategic Solutions is an advocacy organization that specializes in coalition building on social reform and human rights issues. It works with Congress and government agencies to provide insights not only into related problems but potential solutions.