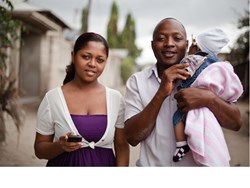 "The service is truly an example of the perfect implementation of expertise sharing and pooling of resources."
Dar es Salaam, Tanzania (PRWEB) December 16, 2013
Khalifan benefits from the well working integrated partnership model that is at the core of the Healthy Pregnancy, Healthy Baby Text Messaging Service. Thanks to the sharing and pooling of resources it is well promoted across the nation and offers a large range of maternal health and early childcare topics. "About 3 or 4 messages come to my phone every week. They give me a lot of (maternal health) advice. This is our first pregnancy. It is easy to do something wrong, but these messages inform us how to do it right. Also, I don't need to pay for the service," says the enthusiastic user.
To date, this service has sent over 21 million messages to pregnant women, mothers with newborn babies (up to 16 weeks) and supporters of women, like this father to be. Those who are just in need of general healthy pregnancy information can also sign up. The objective of the service is to offer men and women – located in every corner of the country and from any income level - healthy pregnancy advice and early childhood care information. This information includes time sensitive reminders for such events as antenatal clinic visits and taking of malaria prevention medication. This information is carefully timed and relevant to the specific registrant, like pregnant women or their supporters. The carefully targeted large range of healthy pregnancy topics, from ANC visit reminders to birth planning and 'fun' informative information for all these types of audiences, makes this a unique service. However, there are other important aspects that make this service so special.
Expertise
"The service is truly an example of the perfect implementation of expertise sharing and pooling of resources", explains Muttah Saulo, mHealth Tanzania Public Private Partnership project manager of the Healthy Pregnancy, Healthy Baby – Text Messaging Service. "It is important to understand that the Ministry of Health and Social Welfare (MoHSW) Reproductive Child Health Services (RCHS) section is the overall leader of the service. Together with many technical partners in the maternal health and early childcare fields the RCHS team provided key input to the development of the messaging service and content and will continue to do so when the service expands with information reaching beyond the age of 16 weeks of a baby."
"The Healthy Pregnancy, Healthy Baby Text Messaging Service was launched in November 2012", the project manager states proudly, "together with Wazazi Nipendeni (Parents Love Me) Safe Motherhood multi-media campaign. The campaign (funded by the US President's Emergency Plan for AIDS Relief and US Presidents Malaria Initiative, through the United States Agency for International Development) was implemented by our partner the Johns Hopkins Bloomberg School of Public Health Center for Communication Program's COMMIT and TCCP Projects and is still running. The campaigns' radio and television spots, billboards and posters include the promotion of the free (reverse-billed) short-code (15001) and the registration keyword 'mtoto'('baby') on all campaign materials. It instructs anyone interested in more information on healthy pregnancy to register and receive the information for free. This collaboration has proven to be critical in building awareness of the messaging service, with registration rates reaching four times their average when there is a full media presence."
Saulo's organization, the mHealth Tanzania Partnership, is led by the CDC Foundation and provides the Ministry of Health and Social Welfare with primary technical assistance for the messaging service, including administrative and management support. As an independent not-for-profit organization, the CDC Foundation assists the Partnership with attracting and maintaining partners to support the messaging service. The US Government Centers for Disease Control and Prevention (CDC) funded the development of the service and provides financial support for its current operation.
Text to Change (TTC) is another key technical partner for the service and provides critical input for the team on how users can most easily interact with the 'ping pong' style of registration utilized by the service and allowing different types of registrants to receive specifically targeted and carefully timed messages. "We designed the platform rules together as partners", explains Saulo, "Following, TTC configured their platform 'Vusion' to accommodate numerous message schedules following well thought out rules. These are based upon the registrants' category group such as being a pregnant mother or a supporter, in combination with details such as the stage of pregnancy or the age of the baby. This information triggers a schedule with specifically targeted and timed messages. Registrants can also update their subscription. For instance, women normally only know how many 'months' along she is in her pregnancy. When she learns how many 'weeks' she is pregnant, she can change that information. It allows her to receive even more accurately timed messages, like the exact week she should take her malaria medication."
Leveraging existing on-the-ground activities
The service is also depending on the support of its multiple 'on-the-ground' partners, especially those who work closely with rural health professionals. These partners leverage their existing networks 'on the ground' and existing activities with health facilities and staff, to orient health professionals on the content of the healthy pregnancy and early childcare text messages and how to assist pregnant women in registering for the text messaging service as part of their ANC visit. This facility based registration assistance is made possible by Elizabeth Glaser Pediatric AIDS Foundation (EGPAF), Afya Connect for Change and Aga Khan Health Services Tanzania – Joining Hands Initiative (funded by the Government of Canada- Department of Foreign Affairs, Trade and Development).
To date, more than 1,000 healthcare professionals have been oriented in the messaging service registration process (across 11 regions in Tanzania) by these 'on-the-ground' partners. They have successfully registered more than 6,000 pregnant women. The registrations at the health facility level will continue to grow as these partners collectively cover more than 1,600 facilities across the country. However, with at least 7,000 health facilities in Tanzania, additional 'on-the-ground' partners and financial support is needed to continue providing the Ministry of Health and Social Welfare the support required to make facility-based registration assistance available to even more registrants.
"Less than half of the women in our country actually manage to attend the minimal required (four visits) routine ante-natal care (ANC) visits during their pregnancy", says the EGPAF Technical Director Roland van de Ven, while explaining that his organization considers the Healthy Pregnancy, Healthy Baby Text Messaging Service a very valuable working tool for health professionals in Tanzania. He adds: "Pregnant women may also come late in their pregnancies. The health professionals have therefore a marginal opportunity to offer health education messages. I think the Healthy Pregnancy, Healthy Baby Text Messaging Service offers a great additional communication channel to provide health information to pregnant women."
District Reproductive & Child Health Coordinator Zainab Mathradas works in the Tanzanian region Lindi. She agrees with EGPAF's technical director: "Lindi is one of the regions with high mortality rates. If the mothers need to understand the text messages better, they can now come to the nurse. We can then explain the information in more detail. It helps us to achieve a good 'understanding' with the mothers."
Partnering for sustainability
The successful Healthy Pregnancy, Healthy Baby Text Messaging Service is free to use for the 300,000 subscribers. However, the program management, aggregator and operator messaging costs are currently paid for by the US Government Centers for Disease Control and Prevention (CDC) and thus dependent on local donor strategies. A partnership with Airtel Tanzania is helping the Healthy Pregnancy, Healthy Baby Text Messaging Service reach such a large number of registrants. Airtel is not charging the service for text messages to and from Airtel subscribers, on a provisional basis for two years. The mHealth Partnership is confident to attract more corporate long-term partners to help the Ministry of Health and Social Welfare grow and sustain the service over the long term. The success of the service has made it abundantly clear to the partners and end users that the services should remain available, but also expand to increase in breadth, depth and accessibility.
The mHealth Tanzania Partnership, on behalf of the Ministry of Health and Social Welfare and service stakeholders, will continue to connect with stakeholders and new partners in order to sustain and expand the existing service. For more information on joining the partnership, please contact the mHealth Tanzania Partnership team via info@mhealthtzppp.net. See also partner and user testimonials on the YouTube Page.
________________________________________________________________________________
*Photo credit: Reinier van Oorsouw, Beyond Borders Media