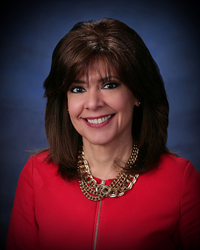 Tempe, AZ (PRWEB) August 27, 2014
Dr. Maria Harper-Marinick, Executive Vice Chancellor and Provost of the Maricopa Community Colleges, has been re-elected as Chair of the U.S. Advisory Committee on Student Financial Assistance (ACSFA). U.S. Secretary of Education Arne Duncan first appointed Dr. Harper-Marinick to the committee in 2012.
Created by Congress in 1986 to provide advice and counsel on student aid policy, the ACSFA makes recommendations that will result in the maintenance of access for low- and middle-income students. Members are experts in higher education and student aid policy and are appointed by members of the U.S. Congress and the U.S. Secretary of Education.
Dr. Harper-Marinick is chief academic and student affairs officer for more than 230,000 credit and 30,000 non-credit students each year.
She oversees curriculum; academic research/assessment; student affairs; strategic planning and institutional effectiveness; university relations, transfer, and articulation; grants development and management; international education; faculty professional growth and development; high-school-to-college pathways and outreach programs; workforce development; and small business development.
She serves on national and local boards and advisory committees including:
·American Association for Community Colleges' Commission on Diversity, Inclusion, and Equity
·Arizona Business and Education Coalition (ABEC)
·Arizona Minority Education Policy Analysis Center (AMEPAC)
·Arizona Public Engagement Task Force
·Arizona Superintendent for Public Instruction's Hispanic Advisory Group
·Arizona Women in Higher Education Executive Board
·Arizona's College and Career Readiness Partnership
·Arizona's Latina Giving Circle
·ETS National Community College Advisory Council
·League for Innovation in the Community College
·Morrison Institute for Public Policy's Career and Technical Education (CTE) Advisory Committee
·Morrison Institute for Public Policy's Latino Public Policy Center Advisory Board
·National Advisory Board for the Center for Community College Student Engagement (CCCSE)
·National Community College Hispanic Council
·Thriving Together Leadership Council
·Valley of the Sun United Way Financial Stability Advisory Council
·Western Alliance of Community College Academic Leaders
Dr. Harper-Marinick came to Arizona in 1982 as a Fulbright Scholar. She holds a Ph.D. in Educational Technology and a Master's Degree in Instructional Media from Arizona State University and a Licentiate in School Administration and Pedagogy from Universidad Nacional Pedro Henriquez Urena in the Dominican Republic. Read her [complete biography to learn more.
###
About Maricopa Community Colleges
The Maricopa Community College system includes 10 colleges – Chandler-Gilbert, Estrella Mountain, GateWay, Glendale, Mesa, Paradise Valley, Phoenix, Rio Salado, Scottsdale and South Mountain. It also includes the Maricopa Skill Center, Southwest Skill Center, Maricopa Corporate College and several satellite campuses and business/industry, technical and customized training institutes.
The Maricopa County Community College District is an EEO/AA institution and an equal opportunity employer of protected veterans and individuals with disabilities.