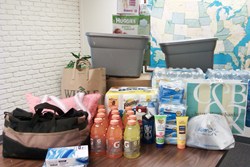 "...we wanted to do what we could to lessen their struggles."
(PRWEB) August 05, 2013
The employees of MI Windows and Doors in Carrollton, TX recently held a product drive to benefit the victims of the devastating tornadoes in Moore, OK. Organized by Bernadette Reed, Administrative Assistant, the collection event helped to provide more than ten families with vital supplies needed to recover from the storm.
On May 20th, a record setting tornado, with wind gusts up to 295 miles per hour, ripped a path over 2 miles wide and 16 miles long across eastern Oklahoma and Northern Texas. The terror lasted only 40 minutes, but the destruction left in its wake is estimated to cost over 2 billion dollars to restore.
"Our employees felt compelled to help our neighbors to the north," said Reed. "We have customers, team members, even family that were affected by the storm and we wanted to do what we could to lessen their struggles." Items collected included hand sanitizer, sun screen, work gloves, diapers, tarps, can openers and canned goods, soap, tooth brushes, and more. JR Minnich, MIWD Carrolton's General Manager, volunteered to personally deliver the items to the families in need. "It was up to the rest of us to do our part," said Reed. "It was a great team effort."
MI Windows and Doors takes pride in giving back to those who make up, support, and are affected by their corporate presence. When the storm struck, it was without hesitation that the employees of Carrollton stepped up to the plate.
For more information on the ways MIWD gives back, contact Katie Williard at kewilliard(at)miwd(dot)com.