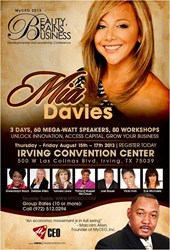 Irving, TX (PRWEB) August 14, 2013
On August 16th 2013 Mia Davies will be speaking at the Irving Convention Center for the MYCEO Beauty, Brains & Business Convention to teach entrepreneurs the most effective strategies to leverage the Internet to attract a global following and leveraged revenue model.
Anticipated as one of the most powerful entrepreneurial events of the year, the MYCEO Beauty Brains and Business Event is not an event one can afford to miss as an entrepreneur. With over 60 megawatt speakers and 80 workshops every entrepreneur is bound to get the training and value they need any area of their business.
One of the most critical pieces of any entrepreneur's business is marketing. Without the most effective, up to date marketing strategies in place a business cannot thrive. Many businesses are falling behind in this area of expertise because they have not wrapped their heads around how to leverage the social era to reach the ideal audience. Many entrepreneurs are getting lost in the shuffle online and don't know how to turn it all around; that is why the creator of MyCEO, Malcolm Allen, asked Internet Marketing maven, Mia Davies, to speak on this critical topic and bring the entrepreneurs in attendance up to speed on what's working now online.
"The Internet is the most powerful place to attract your ideal clients because that's where your clients are. Social media is the most powerful tool to connect with your clients because that's how they are communicating. It all comes down to going where your clients are and understanding how to engage them and move them to take action," explains Mia Davies. Marketing online does not have to be difficult. Simply plug into the strategies being taught and modeled by someone like Mia Davies, who knows how to get results, and you will be experiencing results in your own business. "As entrepreneurs operating in the modern marketing age we are responsible for knowing the best ways to connect with our audiences. Right now that place is online," Mia explains, "And best of all, many of these strategies will go to work for you for years to come, attracting new clients on an ongoing basis, once you put them in place."
Mia Davies will be revealing a simple, yet effective approach to getting results online with social media at the MYCEO "Beauty, Brains, and Business" Convention at the Irving Convention Center August 16th 2013 from 11:45-12:30pm. Attendees of this free training will be provided with strategies and knowledge they can apply immediately in their business to build their following and their profits online. Mia Davies says, "I can't think of a better environment to learn these skills than at this event where you are surrounded with high powered speakers and entrepreneurs from around the world. I am honored to be providing this training and speaking alongside some amazing powerhouse speakers such as Malcolm Allen, Bill Walsh, Joel Bauer, Tamera Lowe, Nicola Jackson, and many others."
Those in the Dallas/Fort Worth area can learn Mia Davies' strategies by attending this live event on Friday, August 16th. Those not in the area can visit http://www.miadavies.com for more training on effective strategies online. Details of the MYCEO Beauty, Brains and Business convention are as follows: The event is Thursday, Friday, Saturday August 15th-17th. There will be over 60 Speakers and 80 Workshops, at the Iriving Convention Center, 500 W Las Colinas Blvd, Irving, Texas. One can purchase tickets at the following link: http://bit.ly/18XIzUC
About Mia Davies
Mia Davies (MiaDavies.com) is an inspirational leader online who empowers entrepreneurs to find their authentic voice and attract a global audience of raving fans and paying clients. She offers coaching programs and online programs to assist entrepreneurs in reaching their goals online and making the difference they are here to make.
Mia Davies
Mia(at)miadavies(dot)com
619-333-2519
http://www.MiaDavies.com
"Mia Davies is Proud to Support The HOME Foundation"
About The HOME Foundation:
The Helping Others Means Everything, or The HOME Foundation, is a not-for-profit organization dedicated to helping our Family of Charities. Frankie Verdugo, President of The HOME Foundation, wants to help as many worthy charities as possible as they struggle during these tough economic times. Frankie Verdugo helps raise funds through luxury dream home raffles, home giveaways, prizes, and high profile celebrity events in Hollywood... "Our mission is to help charities reach their fundraising goals and to bring awareness to their praiseworthy causes."