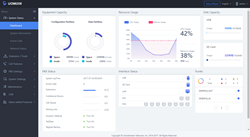 We aren't generic run-of-the-mill VoIP and business phone system vendors. We're long-term partners in our customers' success, and the glowing testimonials we've received confirm that we're on the right track!
ORLANDO, FL (PRWEB) July 25, 2017
MIAMI, FL | TAMPA, FL | ON Drive Techs, a leading business phone service provider for VoIP and business phone systems leader with headquarters in Miami, FL, announced today the release of the Grandstream UCM6200 series with the new redesign, web interface with 2, 4 and 8 telephone lines with VoIP technology that support up to 500 users, remote extensions and mobile app for iOS and android devices.
Hosted PBX and Virtual PBX phone service providers are pushing business owners to optimize their network for VoIP technology, which can get very expensive for the majority of Small Business owners.
Getting a VoIP ready network requires a professional technician or an IT Service company to install and setup a business router with QoS which prioritize VoIP packets to avoid choppy voice sometime experiences with hosted cloud services.
Hosted PBX and Virtual PBX are well known for money train, customers pay separately for each feature, users or seats that add up to the monthly phone bill.
The new IP PBX phone system UCM6200 series allows businesses, Import and export companies collaborate seamlessly with mobile users, remote office extensions inside and outside the U.S.A without paying per users, extensions or seats.
The Grandstream UCM6200 business phone systems includes voicemail boxes for each extension, auto attendant, conference calling, call transfer, call recording, voicemail-to-email, intercom and much more.
For additional information regarding ON Drive Techs VoIP and business phone systems solutions, visit https://www.ondrivetech.com/business-phone-systems/ or call (866) 258-0064.
About ON Drive Techs
With more than 20 years in the IT and telecom industry, ON Drive Techs delivers leading-edge, cost-saving business phone systems and VoIP technology products to customers across South and Central Florida. The company prides itself on working closely with customers to deliver customized solutions and personalized service that they cannot find anywhere else.
Learn more at https://www.ondrivetech.com.