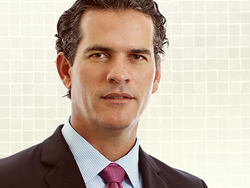 Dr. Adonis will be the featured guest speaker of the Global Wellness Day celebration held at the Ritz-Carlton Spa Key Biscayne in partnership with The Florida Spa Association.
Miami, FL (PRWEB) May 26, 2016
The MIAMI Institute for Age Management and Intervention celebrates Global Wellness Day with a day of events featuring guest speaker Dr. Adonis Maiquez MD, ABAARM. Dr. Adonis, Wellness Physician of the MIAMI Institute is certified by the American Academy of Anti-Aging and Regenerative Medicine, and a member of the Institute for Functional Medicine.
He also heads up FITTLab, the comprehensive medical testing lab located in The MIAMI Institute at The Four Seasons Tower in Brickell.
Dr. Adonis has recently published a book Modern Medicine for Modern Times: The Functional Medicine Handbook to Prevent and Treat Diseases at Their Root Cause. In his book he shares his experience helping thousands of patients improve their overall health, energy level, mental clarity, lose weight, better control of diabetes, depression and anxiety, auto-immune diseases, as well as boost immune system in cancer patients to tolerate chemotherapy better and many other chronic diseases.
Dr. Adonis will be the featured guest speaker of the Global Wellness Day celebration held at the Ritz-Carlton Spa Key Biscayne in partnership with The Florida Spa Association. The morning of June 11th kicks off Global Wellness Day with registration, prizes and a welcome gift for the first 50 guests. Gather at the resort's majestic Grand Lawn for a quick introduction to the day's programming and featured speaker Dr. Adonis from The MIAMI Institute, as he shares his expertise and imparts tips to the anti-aging process. After a short presentation, the morning continues with an hour-long Cardio Beach Hike to the historic Cape Florida Lighthouse with the resort's fitness experts. Guests can finish the day with additional fitness workshops, spa samplings and retail/ spa exclusives available on the day of the event. Guests can also take a break and enjoy pool access, retail discounts, a hand massage, skin care consultation, pool side lunch and create a salt scrub for $50 per person. Additional perks are complete with a 10 percent discount on retail items, organic skin care products, $10 off nail polish changes and 10 minute chair massages for $15. Complimentary valet parking included.
Registration begins at 8 a.m. For a list of times, please visit https://www.facebook.com/events/119930968424451/ or call (305) 365-4197. The Ritz-Carlton Spa, Key Biscayne is located at 455 Grand Bay Drive, Key Biscayne, FL 33149.
###
About The MIAMI Institute for Age Management and Intervention
The Miami Institute for Age Management and Intervention is a comprehensive center for the best in anti-aging medicine. The global destination is a multi-specialty medical practice that addresses all aspects of the aging process including plastic surgery, hormone replacement, reconstructive dentistry, aesthetics, skin care and psychotherapy under one roof in the Four Seasons Hotel and Tower. Five-star service is the standard of care in a modern, AAAHC accredited facility. The patient experience is unparalleled. For additional information please call (305) 928-6119 or visit: http://www.miami-institute.com.
 
About Florida Spa Association
The Florida Spa Association was created by the desire to promote Florida as the finest destination for a Spa experience and as an Association built around the trust and experience of spa professionals. The mission is to connect the spa community by providing social gatherings and networking events, access to new and innovative products and services, team building to promote health and wellness, spa experiences, continuing education, and employment opportunities for resorts and spas throughout Florida.  Spearheaded by a well-established group of high profile spa leaders, this organization offers spa professionals the ability to build strong business relationships with vendors and peers to develop better business practices and thrive within the community. For additional information visit: http://www.floridaspaassociation.com
About The Ritz-Carlton Key Biscayne, Miami
The Ritz-Carlton Key Biscayne, Miami is just minutes from the city's cosmopolitan center, yet feels like a secluded island getaway with its lush tropical gardens, infinity ocean views and the only South Florida beach on Dr. Beach's Top Ten Beaches in the U.S. list. Connected to Miami by a picturesque causeway, the luxury resort is a renowned spa destination, has four globally-inspired dining venues, which take guests on culinary journeys to Tuscany, Coastal Mexico and St. Tropez, and has the largest tennis center of any Ritz-Carlton in the world. The award-winning resort is recognized by Travel + Leisure, Condé Nast Traveler, Robb Report, Forbes, Tennis magazine and Golf Digest as among the world's best hotels. For additional information or reservations, call The Ritz-Carlton at (800) 241-3333, the resort directly at (305) 365-4500, a travel professional or visit The RitzCarlton Web site at: http://www.ritzcarlton.com.