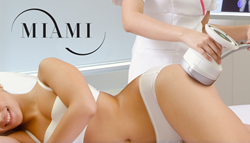 With our investment in cutting edge medical technology devices, your youth and vitality is well assured.
Miami, FL (PRWEB) September 30, 2015
The MIAMI Institute for Age Management & Intervention is announcing the launch of a new Energy Department to provide minimally invasive surgery alternatives. As the one of the foremost Aesthetic Practices in America, The MIAMI Institute has invested heavily in medical technology that creates a vision of future possibilities for patients.
In doing so, the Miami Institute demonstrates "that now more than ever technology and medical devices make a concrete difference in how patients look and feel. With our investment in cutting edge medical technology, youth and vitality is well assured," states its Medical Director Julio Gallo.
The Miami Institute known the world-over for cutting edge procedures that enhance personal beauty and wellness have ensured their place as a leader in the industry by investing in the next level of revolutionary medical equipment like the Ultrashape, Velashape, GentleMax Pro, eTwo Sublime, eTwo Sublative and the Profound.
Recent studies have proven the efficacy of the Ultrashape noninvasive fat reduction and body contouring system. More than 90% of subjects report no pain after the procedure and the clinical study confirmed a significant reduction of fat in the treatment area. Being able to lose weight and shape the body when combined with diet and exercise has never been easier (reference: http://www.ncbi.nlm.nih.gov/pubmed/20442099).
For those men and women looking to reduce the appearance of cellulite, Dr. Gallo suggests the new Velshape III, a device that is FDA approved for the treatment of cellulite.
For a truly transformative experience in beauty the GentleMax Pro, eTwo Sublime and eTwo Sublative are on the cutting edge of beauty advances. From gentle and almost painless hair reduction with the GentleMax Pro to facial rejuvenation for the smoothing of lines and wrinkles with a non-surgical face lift using the "Profound." With FDA clearances, these devices provide the top enhancement techniques available on the market today for these types of procedures.
The Energy Department at the Miami Institute was designed with the sole purpose of providing patients a comprehensive treatment area that focuses on their physical health and beauty without having to undergo invasive surgery. Many people are looking for alternative treatments that do not include a scalpel. With this large investment, Dr Gallo confirms this is possible at the Miami Institute.
With a commitment to invest in only the best medical enhancement devices. The MIAMI Institute's Energy Department has become a leader in health and wellness treatments in the US and around the world. This commitment to excellence has put them in a service level not found in many other health institutions that provide a luxurious experience and competitive pricing.
To learn more, please visit the Energy Department procedures page at: http://www.miami-institute.com/procedures/technology/.