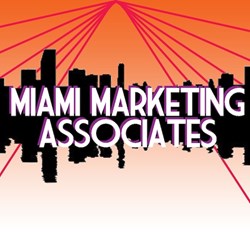 We are overwhelmed by the support we have received from our clients and we aim to continue to offer the most result orientated business model possible
Miami, FL (PRWEB) August 19, 2013
Miami Marketing Associates is a leading customer acquisition firm based in Miami, Florida. The firm use direct forms of marketing to create personalized relationships with their customers; which leads to greater sales results for their clients. Since the firm's launch they have obtained an average of 1500 customers a week for their clients and have taken 6% of the outsourcing market – within a highly saturated industry.
More Info: http://www.miamimarketingassociates.com
It is this strong sales performance that has made Miami Marketing Associates the highest placed start-up firm in the outsourcing industry within the Sunshine State. The firm have a commitment to providing results and superior customer satisfaction for their clients. The business model used by Miami Marketing Associates is much more tangible than other forms of marketing and advertising; allowing results and customer satisfaction to be easily measured. 'Here at Miami Marketing Associates we tailor the way each product or service is presented to the customer to guarantee that individual needs are met; ensuring customer satisfaction' said Managing Director, James Frost. 'The firm goes directly to the customer, cutting out the middle man, effectively driving profits and growth for our client with no risk factor' added James Frost.
Many brands in the USA are choosing to outsource to local companies due to their market knowledge, communication skills and higher ROI (Return on Investment) that can be offered, compared to other off-shore outsourced companies. Miami Marketing Associates use their local knowledge to provide a tailored service for their clients and their customers. The firm also provide a much higher ROI - driven by the firm's passion for the industry and through the execution of a specially designed business model that includes the generation of quality leads, competitor analysis and face to face presentations 'It has been a fantastic start to business here in Miami. We are overwhelmed by the support we have received from our clients and we aim to continue to offer the most result orientated business model possible' says Managing Director James Frost.
Miami Marketing Associates build strong relationships with the local community to better identify local customer needs. By knowing what customers want, the firm are able to deliver them the service that they require. This has resulted in the acquisition of more customers for Miami Marketing Associates (6% of the industry total) and more sales being made, resulting in more profits.
Miami Marketing Associates will continue to execute its face-to-face direct marketing strategy, to maintain healthy and sustainable growth in the Florida region, and deliver positive financial returns for their growing client base.