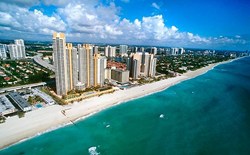 Our goal is to quickly establish ourselves as a leading customer acquisition firm in the Florida region before expanding into the Midwest in 2014
Miami, Florida (PRWEB) August 05, 2013
US start-up firm Miami Marketing Associates are a customer acquisition firm based in Miami, Florida who work within the outsourced direct sales and marketing industry. Since their launch, the firm have obtained an average of 1500 customers a week within their prime Miami location, and are set to storm America's Southeast Coast over the next few months. Managing Director, James Frost's ambition is to extend the firm's market reach throughout the state of Florida. End of year projections for Miami Marketing Associates suggest the start-up will acquire 4000 customers per week by December 2013.
About Miami Marketing Associates: http://www.miamimarketingassociates.com
Working with a major telecommunication brand has assisted with the success Miami Marketing Associates have experienced so far. "We have a fantastic client down here in Miami and are in talks to take on 2 more major brands within the next few months," explains managing director James Frost of Miami Marketing Associates. He continues, "Our goal is to quickly establish ourselves as a leading customer acquisition firm in the Florida region before expanding into the Midwest in 2014."
The Miami region in particular is known for being a great spot for start-up businesses. It's vibrant and growing start-up ecosystem has been home to some of the biggest local start-up businesses including Healthcare.com Inc and DragTimes. In 2005, 2006 and 2007 the State of Florida was named one of the "Top Ten Pro-Business States" by Pollina Corporate Real Estate, Inc. A start-up business in Miami will see far more tax advantages than in any other state. There's no local corporate tax, and Florida's state corporate tax is 5.5% which is among the lowest in the country. "As a new business, all of these things matter. We appreciate the assistance provided to start-ups in Miami," adds James Frost.
Other perks start-up businesses can find advantageous in Miami include an excellent business climate,  the ability to ship goods efficiently anywhere in the world through the Port of Miami, having easy access to a direct air mail service from Miami International Airport as well as being within the Eastern time zone, which make communications easier with Europe and Western America.  
Miami Marketing Associates are set to become a leading customer acquisitions firm. They use direct forms of marketing, which are a more tangible marketing method compared to traditional marketing and advertising services. By using direct marketing, Miami Marketing Associates are able to create personalized relationships with their customers, making it easier to meet the demands of their clients. By positioning themselves within the Miami region, Miami Marketing Associates plan to join the many other successful start-up businesses in the sunshine state.