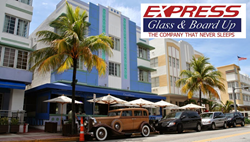 A broken glass door during Memorial Day weekend is costly to Miami businesses like restaurants. People expect to dine on the patio and enjoy views of Florida's beaches
Miami, Florida (PRWEB) May 22, 2015
Express Glass & Board Up, one of Miami's top commercial and residential glass repair services, is alerting business owners of cost-effective 24/7 service to broken sliding glass doors and windows. With summer tourists enjoying Florida's beaches and businesses soon, there will be more stress on sliding glass doors.
"A broken glass door during Memorial Day weekend is costly to Miami businesses like restaurants. People expect to dine on the patio and enjoy views of Florida's beaches," explained Yani Santos General Manager of Express Glass. "Broken glass can close a patio in minutes. That's why we are reminding businesses of our 24/7 emergency glass repair service. A broken glass door can be fixed before the dinner rush starts!"
Commercial establishments needing emergency glass repairs can visit the newly updated 'landing page' at http://www.expressglassfl.com/commercial-glass-repair/emergency-glass-repair-services/. There they can send an instant email to the company, or find the relevant local phone number. Operators standby twenty four hours each day, as emergencies happen at all hours of the day and night, especially during holidays.
With 24/7 service, Premeasured Glass Doors are Replaced Quickly
Express Glass and Board Up recommends that Miami-Dade County business owners have their glass doors inspected and pre-measured prior to the busy summer season. Millions of summer vacationers visit the Florida beaches to enjoy Memorial Day weekend. A broken glass door at a restaurant is an urgent problem. It is a hazard to customers and costly to restaurants. Repairs with the proper glass door fittings must be swift. With glass repair available 24/7 and pre-measured service, restaurant owners can have their ocean views available for the dinner rush.
Storefronts and vacation homes also experience more foot traffic from enthusiastic Miami tourists. The dangers of glass in a public place is urgent. Sandal-wearing Florida vacationers want to enjoy their holiday in safety. Express Glass & Board Up can be at a business with a response time of 30 minutes to fix and secure broken glass doors and windows. With millions of people enjoying Miami-Dade County during the summer months, pre-planning broken glass can avoid dangerous and costly accidents.
About Express Glass Repair and Board Up
Express Glass and Board Up Service Inc. is a family owned and operated glass repair business with more than 20 years of experience. Their professional technicians and the large variety of inventory make Express Glass the top glass repair service. If customers are looking for Miami glass repair or Miami glass repair as well as glass repair in Delray Beach or West Palm Beach glass repair, please reach out to the company for a free estimate. If customers need a 24/7 Sliding Glass Door repair service in Miami or Boca Raton or Miramar, technicians are standing by. The company specializes in sliding glass door repair and window glass repair; technicians will handle any glass replacement situation efficiently. Home or business glass repair is the company's main priority.
Express Glass Repair and Board up
http://www.expressglassfl.com/