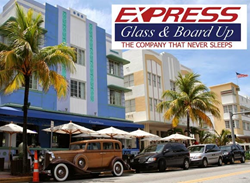 We learn so much from our inbound customer phone calls
Miami, Florida (PRWEB) January 11, 2016
Express Glass and Board Up, one of Miami's oldest and most highly rated glass repair companies at http://www.expressglassfl.com/miami-glass-window-repair/, is proud to announce a new update to its lively informational page on Miami glass repair services. Constant confusion over autos, homes, and businesses has spurred the company to undertake a major upgrade project to its website, and the Miami page is one of the first to undergo so-called "agile development."
"We learn so much from our inbound customer phone calls, especially " explained Yaniet Santos, General Manager of Express Glass, "In late 2015, we embarked on an ambitious website upgrade using the so-called 'agile development process.' This means that we roll out changes on a constant basis, based on a constant customer-focused learning process. Our recent upgrade clarifies our commercial and home glass repair services in lieu of auto repair services in the city."
To view the glass repair page on Miami, please visit http://www.expressglassfl.com/miami-glass-window-repair/. Special attentions should be paid to the bulleted points, especially the first one clarifying that the company a) does NOT serve automobiles, b) does indeed serve homes or so-called residential glass repair services, and c) also services businesses in the area (so-called commercial glass repair).
The agile development process means a constant flow of updates as opposed to a lengthy and slow development process. The new bullet says:
Glass Repair – outside of automobiles, we repair nearly every type of glass imaginable. From sliding glass doors to home windows to entry way doors for Miami businesses, if it has glass in it – whether residential or commercial – we can either fix it or replace it at the best service, and best prices in the industry.
Glass Repair: The Confusion of Autos
The reality of today's busy consumer, whether a business owner or a homeowner, is that he or she turns first to the Internet to identify the best glass repair service. This is especially true in a large city such as Miami, which is both digitally innovative and very busy. The reality in the glass repair business, however, is that many companies work in the automobile sector, but not so many work in the commercial and or home glass repair sectors. Therefore, the busy consumer, often lands on the wrong website, and is subject to a wild goose chase as he or she attempts to identify companies that truly service homes and businesses in the Miami area, whether in the city of Miami or elsewhere in Miami-Dade county.
By constantly paying attention to inbound consumer questions, Express Glass has learned that this is one of the major pain points of the busy consumer or business owner. This recent upgrade to the informational page, while seemingly small, is a significant attempt to help consumers end up in the right place.
About Express Glass and Board Up
Express Glass and Board Up Service Inc. is a family owned and operated glass repair business with more than 20 years of experience. Professional technicians and the large variety of inventory make Express Glass the top glass repair service. If customers are looking for West Palm Beach storefront glass repair or glass repair in Delray Beach or Ft. Lauderdale glass repair, reach out to the company for a free estimate. 24/7 emergency storefront glass repair and replacement services are also available. If customers need a 24/7 Sliding Glass Door repair service in West Palm Beach or Boca Raton or Miramar, technicians are standing by. The company specializes in sliding glass door repair and window glass repair; technicians will handle any glass replacement situation efficiently. Home or business glass repair is the company's main priority.
Express Glass Repair and Board up
http://www.expressglassfl.com/