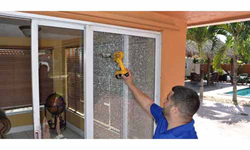 This is the summer of the RIO Olympics and everyone is watching our greatest athletes give their best
Miami, Florida (PRWEB) August 19, 2016
Express Glass & Board Up, a Miami glass repair leader, has proudly announced a new web page update. Inspired by the Summer Olympic Game, the company reminds the public about a shared theory in greatness and how the community benefits. Striving for excellence in glass repair and replacement is the Express Glass goal.
"This is the summer of the RIO Olympics and everyone is watching our greatest athletes give their best," explained Yaniet Santos, general manager of Express Glass. "These Olympic games inspire everyone to raise the bar on their daily efforts. We decided to update our web page to help our Florida community understand what being the best glass repair service means to us on a practical level."
To review the updated web page go to: http://www.expressglassfl.com/glass-repair/. Details about the company's philosophy in striving to be the best in glass repair for Miami and surrounding communities is available. Information about 24/7 emergency glass repair, sliding glass door repair and window replacement can also be found. For Miami-specific information, interested parties should refer to http://www.expressglassfl.com/miami-glass-window-repair/.
Olympic Games and Miami Glass Repair Service Share a Winning Philosophy
The 2016 Summer Olympics reminds communities throughout the world that hard work and dedication are the key to achieving the best results. People from Rio de Janiero, Brazil to Miami, Florida may be inspired to see the value of striving for greatness as a lifetime effort. Winning athletes and businesses may share similar theories. Working everyday to bring an "A" game to all efforts such as performance, attitude and customer service. The same philosophy applied to Miami glass repair brings a benefit to communities as well.
Express Glass, glass repair and replacement professionals have recently issued an updated web page highlighting the company philosophy. The post reminds Miami's community achieving the best in service continues to be a company credo. The post highlights a few important traits for excellence in glass repair -
Best Timing: 24/7 emergency glass repair service in Miami and the surrounding Florida cities.
Best Quality: Offer winning glass inventory such as high impact glass, insulated glass and patio glass.
Best Attitude: At 1am or 1pm, friendly and professional customer service is consistent.
Excellence in glass repair service and support continues to be the company goal. A winning philosophy and daily practice provides Miami residents with glass repair champions 24/7.
About Express Glass Repair and Board Up
Express Glass and Board Up Service Inc. is a family owned and operated glass repair company with more than 20 years of experience. Professional technicians and large variety of inventory make Express Glass the top commercial and residential glass repair company in Miami. If customers are looking for Miami glass repair or window replacement as well as emergency glass repair in Florida, please reach out to the company for a free estimate. If customers need a 24/7 emergency sliding Glass Door repair service in Miami or West Palm Beach, technicians are standing by. Technicians will handle any glass repair or replacement situation efficiently. Home or business glass repair is the company's main priority.
Express Glass Repair and Board up
http://www.expressglassfl.com/