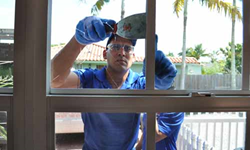 We are proud to know that homeowners in Miami and elsewhere in South Florida who have used our service are recommending us to others on a well-respected website like Home Advisor
Miami, Florida (PRWEB) May 31, 2016
Express Glass, one of Miami's top-rated glass window replacement services, is proud to announce new five-star ratings on the popular home repair website Home Advisor. The website allows members to rate and recommend the best in home repair services.
"The best kind of advertising is happy customers," commented Yaniet Santos, general manager of Express Glass. "We are proud to know that homeowners in Miami and elsewhere in South Florida who have used our service are recommending us to others on a well-respected website like Home Advisor. Five-star customer ratings mean our commitment to being leaders in glass repair is right on track."
To read the latest customer reviews about Express Glass on Home Advisor please go to http://www.homeadvisor.com/rated.ExpressGlassandBoardUp.40310489.html.
To review service information such as Miami glass window replacement, review the Express Glass page at; http://www.expressglassfl.com/miami-glass-window-repair/. Details about residential and commercial glass services are available. Residents from outside of Miami, can browse the site footer and identify services available specific to their city.
Florida Homeowners Give Five Stars to Trusted Professionals in Miami Glass Window Replacement
Miami homeowners may have moments when a home repair project can become a budget-buster. When an upgrade isn't a DIY project, such as installing new windows, searching for a trusted professional may be difficult. The wrong handyman can cause more money and time than a budget allows. Instead of leaving home repair to chance, Miami residents are joining like-minded groups online to find and recommend the best home improvement services. When a project such as Miami glass window replacement is on the checklist, the homeowner community has an opinion about what company provides the best all-around service.
Express Glass has received top ratings from Home Advisor customers for Miami glass window replacement and sliding glass door repair. Homeowners have sited Express Glass technicians as courteous, responsive and knowledgeable. Comments also include quality work, fair quotes and quick repair service. The best reviews come from happy customers and homeowners give high praise to the best in Miami glass window replacement.
About Express Glass Repair and Board Up
Express Glass and Board Up Service Inc. is a family owned and operated glass repair business with more than 20 years of experience. Professional technicians and the large variety of inventory make Express Glass the top glass repair service. If customers are looking for Miami glass window replacement or West Palm Beach glass repair as well as glass repair in Delray Beach or West Palm Beach glass repair, please reach out to the company for a free estimate. If customers need a 24/7 Sliding Glass Door repair service in West Palm Beach or Boca Raton or Miramar, technicians are standing by. The company specializes in sliding glass door repair and window glass repair; technicians will handle any glass replacement situation efficiently. Home or business glass repair is the company's main priority.
Express Glass Repair and Board up
http://www.expressglassfl.com/