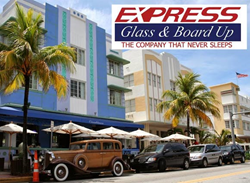 While we are passionate about glass repair, we realize that the typical Miami resident may not be until he or she confronts a glass repair problem in the home
Miami, Florida (PRWEB) March 07, 2016
Express Glass & Board Up (http://www.expressglassfl.com/), one of the top home glass repair services in Miami, Florida, is proud to announce a new, serious yet humorous post to its blog on the issue of home glass repair. The posts focuses on sliding door repair issues and yet playfully uses language to both educate and inform the company's blog readership.
"While we are passionate about glass repair, we realize that the typical Miami resident may not be until he or she confronts a glass repair problem in the home" explained Yaniet Santos, general manager of Express Glass. "New for Spring, 2016, we are ramping up the use of humor on our blog, and this first post kicks off that effort by talking about what truly slides about in a Miami home."
To read the blog post, please visit http://www.expressglassfl.com/blog/sliding-glass-door-repair/miami-sliding-doors-not-the-only-thing-that-slides/. Interested parties are also reminded that they can click on the 'blog' tab at the top right of the page to find more blog posts by the company. Miami-specific information, including on the topic of glass repair for both homes and businesses can be found at http://www.expressglassfl.com/miami-glass-window-repair/.
Glass Repair and Social Media: the Use of Humor
Glass repair, especially for homeowners, straddles the do-it-yourself (DIY) community as well as the professional repair community. Express Glass & Board Up has discovered via its blog and resultant customer feedback that many customers start their journey by beginning with a do-it-yourself project to repair or replace a home window or sliding glass door. They may at that point reach out to the Internet for advice. However, many often realize that the project scope is beyond them. At that point, they often contact a professional glass repair service. By using humor on its blog the company has learned to entertain and engage customers, thereby building a good relationship as their thinking evolves on the best glass repair choice for their particular needs.
About Express Glass Repair and Board Up
Express Glass and Board Up Service Inc. is a family owned and operated glass repair business with more than 20 years of experience. Professional technicians and the large variety of inventory make Express Glass the top glass repair service. If customers are looking for sliding door replacement in Fort Lauderdale, or Miami glass repair, as well as window repair in Delray Beach or West Palm Beach glass door repair, please reach out to the company for a free estimate. If customers need a 24/7 Sliding Glass Door repair service in Ft. Lauderdale or Boca Raton or Miami, technicians are standing by. The company specializes in sliding glass door repair, storefront glass door repair and replacement. Home or business glass repair is the company's main priority.
Express Glass Repair and Board up
http://www.expressglassfl.com