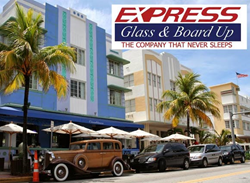 Home buyers want homes with lovely views from all of their windows and doors. Old, rusted sliding door tracks and hazy glass ruin that image and turns home buyers off
Miami, Florida (PRWEB) July 17, 2015
Miami's top-rated sliding glass door replacement and repair experts, Express Glass & Board Up has issued an alert to homeowners about the importance of upgraded sliding doors to increase the chance of a quick sale in a slow selling market. As the Florida real estate market continues to improve, home buyers search for the best deal and quality upgrades. Clean, energy efficient and easy-glide sliding glass doors are a small investment that make a large impact on prospective home buyers.
"Florida is known for sunshine and beautiful views," explained Yaniet Santos, General Manager at Express Glass. "Home buyers want homes with lovely views from all of their windows and doors. Old, rusted sliding door tracks and hazy glass ruin that image and turns home buyers off."
To read the full alert, published in the last thirty days due to the timely nature of the peak Florida home-selling season, please visit http://www.expressglassfl.com/blog/category/sliding-glass-door-replacement/. To learn more about Express Glass Repair and Board Up and their Miami service offerings, please visit http://www.expressglassfl.com/miami-glass-window-repair/.
Replacing Sliding Glass Doors Increases the Chances of a Quick Sale for Florida Home Sellers.
Replacing sliding glass doors with new, easy glide, sliding doors are a pleasure for real estate agents to sell. Miami home buyers look for important upgrades such as new bathrooms and kitchens. Part of these upgrades must include installing new sliding glass doors. If the view out the new granite and stainless steel kitchen is through an old metal sliding door, the entire image of the room has been damaged. Dirty grout, bent screens and foggy glass dampen a buyer's vision of their Miami dream home. It can also lower the offer made to the real estate agent. Express Glass reminds home sellers that at an affordable cost, replacing sliding glass doors elevates the overall image of a room and can encourage offers closer to the listing price. The Express Glass website offers free consultation and 10% off installments to make the decision that much easier.
About Express Glass Repair and Board Up
Express Glass and Board Up Service Inc. is a family owned and operated glass repair business with more than 20 years of experience. Their professional technicians and the large variety of inventory make Express Glass the top glass repair service. If customers are looking for Miami glass repair or Ft. Lauderdale glass repair as well as glass repair in Delray Beach or West Palm Beach glass repair, please reach out to the company for a free estimate. If customers need a 24/7 Sliding Glass Door repair service in Ft. Lauderdale or Boca Raton or Miramar, technicians are standing by. The company specializes in sliding glass door repair and window glass repair; technicians will handle any glass replacement situation efficiently. Home or business glass repair is the company's main priority.
Express Glass Repair and Board Up