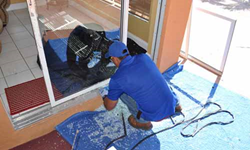 We are growing in popularity with the Miami community and very proud of our popularity for all types of glass repair, both business and commercial, in the greater Miami area
Miami, Florida (PRWEB) September 15, 2015
Express Glass and Board Up, Miami's top glass repair service for windows and patio doors, releases updated web page information about sliding glass door replacement. In conjunction with its updates to topic-specific pages, the company has also updated its city-specific pages, among them Miami.
"We are growing in popularity with the Miami community and very proud of our popularity for all types of glass repair, both business and commercial, in the greater Miami area," expressed Yani Santos, general manager at Express Glass. "We value customer service in emergency glass repair and support. Florida business and locals alike seem to agree. To continue this trend, we've upgraded our Miami web page to keep up with customer requests for glass replacement information. We are particularly proud of our growing reviews on Google+, and the increasing awareness of our sliding door replacement services."
To visit the updated Miami page, go to: http://www.expressglassfl.com/miami-glass-window-repair/. Updated information, reviews and service support can all be located at the newly revised page for the busy Fall, 2015, season.
Sliding Glass Door Service, Express Glass, Rises in Popularity with Miami's Businesses and Residents.
Broken sliding glass doors and windows are a regular occurrence for Miami's locals. Glass can break for all types of reasons; clumsy tourists, wayward baseballs, stormy weather or burglars. When a patio door glass breaks, it becomes a danger to everyone. Calling an emergency glass specialist with super customer service skills and quick service is essential. Understanding the process and timeline for service is also important.
Due to increased interest, Express Glass has released an up-to-date web page for Miami locals and businesses. The page notes new five star reviews in Google + and updated information about sliding door replacement just in time for the Fall, 2015, busy season. Customer service is an important ingredient for South Florida's companies to thrive. For 24/7 broken glass emergencies, customer services is a requirement and having it within 30 minutes is a relief. Miami's homeowners and store owners won't accept any less from a sliding door replacement specialist.
About Express Glass Repair and Board Up
Express Glass and Board Up Service Inc. is a family owned and operated glass repair business with more than 20 years of experience. Their professional technicians and the large variety of inventory make Express Glass the top glass repair service. If customers are looking for Miami glass repair or Ft. Lauderdale glass repair as well as glass repair in Delray Beach or West Palm Beach glass repair, please reach out to the company for a free estimate. If customers need a 24/7 Sliding Glass Door repair service in Ft. Lauderdale or Boca Raton or Miramar, technicians are standing by. The company specializes in sliding glass door repair and window glass repair; technicians will handle any glass replacement situation efficiently. Home or business glass repair is the company's main priority.
Express Glass Repair and Board up
http://www.expressglassfl.com/