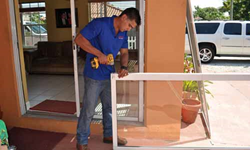 We have a few customers who call us several times to replace the glass or gliding mechanisms on their patio doors
Miami, FL (PRWEB) October 23, 2015
One of Miami's top sliding glass door repair and replacement services, Express Glass and Board Up, has issued a think piece about when Florida homeowners should consider upgrading sliding glass doors. Deciding when is the best time for sliding glass door replacement may depend on many individual factors. When a home is up for sale, or when a patio doors jam, may be indicators the time is soon.
"We have a few customers who call us several times to replace the glass or gliding mechanisms on their patio doors," said Yani Santos, general manager of Express Glass. "They think they are saving money by making these repairs. After a while, they are probably spending more time and money than they would if they just replaced their sliding glass door. We created this post so our Miami customers know when it's time to actually do a replacement."
To read the think piece about sliding glass door replacement in the Miami and surrounding Florida area, go to- http://www.expressglassfl.com/blog/sliding-door-repair/replacing-sliding-door-miami-time/. The page offers information about when it the best time to replace old patio doors and windows for homeowners and businesses. To view the Miami-specific informational page on glass repair, please visit http://www.expressglassfl.com/miami-glass-window-repair/.
Miami Residents Should Choose the Right Time for Sliding Glass Door Replacement
Miami locals spend many hours in patios and backyards enjoying the beautiful Florida weather. Over time, the fresh ocean breeze and sunshine can add extensive wear and tear to busy sliding glass doors. Tracks can become rusted or bent from sand and overuse. Tracks can jam and lock leaving the home open and insecure. Homeowners may be confused about when is the best time to consider replacement, instead of repair, of a patio door.
Express Glass and Board Up has issued a new post that provides simple indicators that it may be time for sliding glass door replacement. If the homeowner is upgrading the house, replacement for new, modern sliding doors can complete the renovation. If the home is being placed on the Florida real estate market, upgraded patio doors and windows will increase interest from Miami homebuyers. If the glass doors are old and do not glide easily on the track, this is also a reason to consider replacement. Express glass reminds people that replacing sliding glass doors and windows at the right moment can save money and time for Miami homeowners and businesses.
About Express Glass and Board Up
Express Glass and Board Up Service Inc. is a family owned and operated glass repair business with more than 20 years of experience. Their professional technicians and the large variety of inventory make Express Glass the top glass repair service. If customers are looking for Miami glass door replacement, or Ft. Lauderdale glass repair as well as glass repair in Delray Beach or West Palm Beach glass repair, please reach out to the company for a free estimate. If customers need a 24/7 emergency sliding glass door repair service in Ft. Lauderdale or Miami or the Florida area, technicians are standing by. The company specializes in sliding glass door replacement and window glass repair; technicians will handle any glass replacement situation efficiently. Home or business glass repair is the company's main priority.
Express Glass Repair and Board up
http://www.expressglassfl.com/