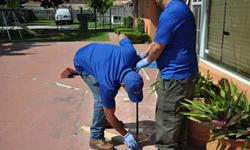 We know from past experience that consumers need an incentive to avoid postponing needed sliding glass door repairs or replacements
Miami, FL (PRWEB) November 30, 2015
Express Glass Repair and Board Up, Miami's favorite sliding glass door repair service, is proud to announce the extension of their popular 10% coupon offer. In light of the Fall and Winter shopping season, the company realizes that consumers often become strapped for cash. Accordingly, the coupon offer will allow them to not postpone needed sliding glass door repair or replacement decisions.
"Fall and Winter soon become Holiday shopping time," explained Yani Santos, general manager of Express Glass. "We know from past experience that consumers need an incentive to avoid postponing needed sliding glass door repairs or replacements. Having a broken sliding glass door is unsafe, and we do not want consumers to postpone a safety-oriented repair."
The coupon offer can be found at http://www.expressglassfl.com/coupon/. It expired on October 31, 2015. It has now been extended for one additional year; note, however that it cannot be used on the actual holiday days (e.g., Thanksgiving or Christmas day). It can be used on other days during the season.
Sliding Glass Door Repair: Do Not Procrastinate
Miami is known as a popular 'live for the moment,' town with great nightlife and an exciting atmosphere. Citizens of this great city love to party, and sometimes do not remember to prioritize their home safety issues. During the Holiday period, it is not uncommon for a sliding glass door to break or need repairs. Accordingly, the renewal of the 10% coupon offer means that Miami citizens has an extra incentive to not procrastinate on a needed repair. Residents are cautioned that the actual holiday days are a blackout period.
About Express Glass Repair and Board Up
Express Glass and Board Up Service Inc. is a family owned and operated glass repair business with more than 20 years of experience. Their professional technicians and the large variety of inventory make Express Glass the top glass repair service. If customers are looking for Miami glass repair or Miami glass repair as well as glass repair in Delray Beach or West Palm Beach glass repair, please reach out to the company for a free estimate. If customers need a 24/7 Sliding Glass Door repair service in Miami or Boca Raton or Miramar, technicians are standing by. The company specializes in sliding glass door repair and window glass repair; technicians will handle any glass replacement situation efficiently. Home or business glass repair is the company's main priority.
Express Glass Repair and Board up
http://www.expressglassfl.com/