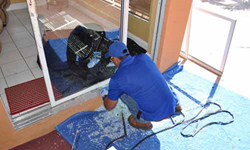 It's clear to us that customers have lots of questions about repair vs. replace for sliding glass door issues
MIami, FLorida (PRWEB) November 19, 2015
Miami's top-rated sliding glass door replacement and repair experts, Express Glass & Board Up, is proud to announce a new milestone for the company. A twentieth blog post for the topic of sliding glass door replacement vs. repair has been released on the company website.
"It's clear to us that customers have lots of questions about repair vs. replace for sliding glass door issues," notes Yaniet Santos, General Manager of Express Glass. "When you get down to the details, it's not always an easy choice. That is why we are so proud to top the twenty blog milestone in November, 2015, addressing each aspect of the repair vs. replace dilemma. Fixing damaged glass for windows and patio doors can be affordable and easy with the right information."
To review the blog post series, now topping more than twenty informational posts, please visit http://www.expressglassfl.com/blog/tag/sliding-glass-door-replacement-2/. Information about 24/7 emergency glass repair, hurricane resistant glass and other details are also available to Florida residents by clicking 'up' to the company's informational blog.
Hot Topic for Miami: Sliding Glass Door Replacement vs. Repair
Florida's coastline is known for hot weather and cool ocean breezes. Patio doors in restaurants and storefronts experience excessive use during the summer season. During Florida's hurricane season, sliding glass doors withstand damage from high winds and flying debris. Since Miami's glass doors and windows experience different types of wear and tear, smart answers to shattered glass emergencies will differ.
Express Glass and Board Up has announced a twenty-blog milestone for the topic of sliding glass door replacement vs. repair. Miami home and business owners demand answers to key questions about broken sliding glass doors and windows. Each blog post notes specific details to repair vs. replacement dilemmas such as: hurricane damage, bent patio frames, shattered glass from a burglary and 24/7 emergency glass replacement. In hot or cold weather, Miami residents are reminded there is a professional to answer all sliding glass door replacement questions.
About Express Glass Repair and Board Up
Express Glass and Board Up Service Inc. is a family owned and operated glass repair business with more than 20 years of experience. The company's professional technicians and large variety of inventory make Express Glass the top glass repair service in Miami. If customers are looking for Miami sliding glass door replacement and repair or Ft. Lauderdale glass repair as well as glass repair in West Palm Beach, please reach out to the company for a free estimate. If customers need a 24/7 Sliding Glass Door repair service in Miami or Boca Raton or Miramar, technicians are standing by. The company specializes in sliding glass door repair and window glass repair; technicians will handle any glass replacement situation efficiently. Home or business glass repair is the company's main priority.
Express Glass Repair and Board up
http://www.expressglassfl.com/