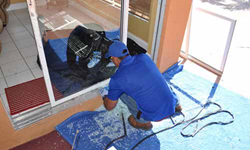 Every year around the holidays we receive last minute calls from Miami locals needing emergency sliding glass door repair
Miami, Florida (PRWEB) December 30, 2016
Miami's leading service for sliding glass door repair, Express Glass & Board Up has issued a reminder for the Miami-Dade county community. The service reminder reminds area residents that as they plan holiday festivities, an emergency preparedness plan may need to be reviewed. Unexpected dangers such as a broken window can threaten the safety and security of a home or business, leading to injuries and costly lawsuits.
"Every year around the holidays we receive last minute calls from Miami locals needing emergency sliding glass door repair," explained Yaniet Santos, general manager of Express Glass. "Sometimes they weren't prepared for the accident and after several hours or a day, find us and call us for our 24/7 emergency glass repair. We wanted to get the word out early that we are here any time during the holiday season. Residents should keep our number handy prior to an emergency over the holidays!"
Updated information, including phone numbers and Web-based contact, for emergency sliding glass door repair in Miami can be found at http://www.expressglassfl.com/miami-glass-window-repair/. The page on emergency glass repair is also updated at http://www.expressglassfl.com/commercial-glass-repair/emergency-glass-repair-services/.
Making a list for Sliding Glass Door Repair in Miami and Checking it Twice
Miami locals may be reviewing projects for the holiday season and double-checking the details. Gift giving and festive dinners could be the main focus of a list, but a practical emergency preparedness strategy may be a smart idea too. Ensuring a home or business is secure can keep the festivities going. For instance, if a large storm rages outside during a holiday party and a patio door is shattered by flying debris, it can stop the merrymaking quickly. Many glass repair businesses may be closed during evening celebrations. It might be important to have the number of a sliding glass door repair business that is open 24/7 for such important emergencies.
Express Glass, Miami's top sliding glass door repair company, has issued a reminder to the Florida community. Locals may want to add emergency window glass repair service contact information to a holiday checklist. Weeks of plans for a fun and memorable holiday dinner can be thwarted when shattered glass becomes an unexpected guest. If the number for 24/7 emergency sliding glass door repair is on a list, hosts can call to fix the problem quickly. The safety and security of Miami patrons during the holiday season should be a priority on any home or business checklist. Express Glass reminds Miami to note what number to call for 24/7 sliding glass door repair emergencies. Quick access to fixing a shattered window or patio door can help keep a holiday merry and bright.
About Express Glass Repair and Board Up
Express Glass and Board Up Service Inc. is a family owned and operated glass repair business with more than 20 years of experience. Professional technicians and the large variety of inventory make Express Glass the top glass door replacement and repair service. If customers are looking for Miami sliding glass door repair, or Ft. Lauderdale glass repair as well as glass repair in Delray Beach please reach out to the company for a free estimate. If customers need a 24/7 Miami Sliding Glass Door replacement service, or glass repair in Ft. Lauderdale or Boca Raton, technicians are standing by. The company specializes in sliding glass door repair and window glass repair; technicians will handle any glass replacement situation efficiently. Home or business glass repair is the company's main priority.
Express Glass Repair and Board Up
http://www.expressglassfl.com/