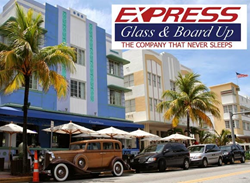 When customers make an emergency call on a holiday weekend at 2 am, they are surprised when they hear a familiar voice and a live person
Miami, Fl (PRWEB) September 21, 2015
September 21, 2015. Miami, Florida
Express Glass and Board Up, Miami, Florida's top-rated glass repair and replacement service, has released an important clarification about 24/7 emergency service to the city. Businesses that advertise 24/7 service for glass repair can be confusing to customers, as not all service homes and businesses and not all have Miami-based service routing centers. Many times a 24 hour business will forward calls to an answering service during non-work hours. This creates longer waits for customers.
"When customers make an emergency call on a holiday weekend at 2 am, they are surprised when they hear a familiar voice and a live person," explained Yani Santos, general manager of Express Glass. "Other 24/7 services will close their stores at 6pm and forward calls to an answering service. We don't. We are open and customers will speak directly to us when they call. That's real emergency service support! We felt strongly enough about this to issue this important announcement by press release just in time for the busy, Fall, hurricane season."
To learn more about Express Glass and Board Up's Miami, Florida, emergency, 24 hour glass repair services, please visit http://www.expressglassfl.com/miami-glass-window-repair/. To learn about specific emergency service, users are advised to use the site navigation. The website has both geographic and service-specific informational pages.
Miami Resident's Want a 24 Hour Glass Replacement Service that Never Sleeps.
When a storefront window is shattered at 2 am in Florida, shop owners must drive to the site to prevent further damage or criminal activity. This is a serious 24 hour glass replacement emergency. Speaking to an answering service and waiting for a call back from an on-call technician adds extra hours to the wait time. Miami's business owners cannot leave the store until the broken glass is repaired. A longer wait for service means sleep is lost and security of the property is in jeopardy.
Unfortunately, confusion on the Internet presents companies that use answering services "as if" they offer 24/7 emergency service for Miami glass customers. Express Glass reminds customers that a professional glass replacement service is available, with local Miami staff, 24/7. When a South Florida customer calls on a holiday weekend at 3am, a technician will pick up the phone, not an answering service. This means quicker service and a shorter wait time to repair shattered storefront windows. Once the windows are replaced and the store is secured, business owners can return home and rest. For Miami's shop owners, it is a relief to know that there is a 24/7 glass replacement company that truly never sleeps.
About Express Glass and Board Up
Express Glass and Board Up Service Inc. is a family owned and operated glass repair business with more than 20 years of experience. Their professional technicians and the large variety of inventory make Express Glass the top glass repair service. If customers are looking for Miami glass repair or Boynton glass repair as well as glass repair in Delray Beach or West Palm Beach glass repair, please reach out to the company for a free estimate. If customers need a 24/7 Sliding Glass Door repair service in Miami or Boca Boynton Beach technicians are standing by. The company specializes in sliding glass door repair and window glass repair; technicians will handle any glass replacement situation efficiently. Home or business glass repair is the company's main priority.
Express Glass Repair and Board up
http://www.expressglassfl.com/