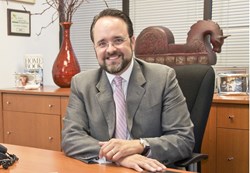 Miami, FL (PRWEB) January 21, 2014
Actually, the general expectation is that interest rates will remain low for the present year, offering an excellent opportunity to secure and qualify for a low monthly payment. These mortgage loans are now available for local and international homebuyers in a thriving housing market, where real estate assets constantly increase in value.
"Our niche is the sale of new-construction properties," says Emilio J. Cardenal, Broker and Corporate Executive Officer of Interinvestments Realty. "As recent records indicate, international buyers prefer new-construction rather than resale properties. In the past, they have bought properties all-cash, but now, we are starting to see local lenders willing to offer financing to the international buyers as well, who are taking full advantage purchasing new-construction properties during all phases of construction: in pre-construction, and finally in builders-close outs, when properties are already built and ready for-sale in inventory."
"The anticipation is for interest rates to stay low for this year, even after a mid-year rate increase of about 1%, during last year rates continued to be historically low. The fact that real estate prices have continued to increase in our area makes this as good a time as any to buy," agrees Saul Blanco, a partner of Residential Finance Corporation, a national lender based out of Columbus, Ohio, with offices in Miami-Dade and Orlando. "Low interest rates plus a steady climb in prices makes it logical to buy now."
"Foreign buyers are able to finance with down payments generally between 30% to 35%," explains Blanco. "This type of financing is not uniform across the board. Every bank or institution that offers it uses its own internal criteria to create a program."
"The more experience and exposure we have to the banks that offer these products the easier the process will be," continues Blanco. "This is an area, I must say, that we have ample experience on. I consider foreign nationals financing to be practically a specialty within the financing world."
"One of the most important aspects of this type of financing is the buyer's ability to show the source of the funds that will be utilized in the purchase,' explains Blanco. "I have done a number of seminars both in local real estate firms and abroad as a way to attract and educate potential buyers in the financial options that exist. In conclusion, foreign national buyers in our market are crucial for our continued success."
If you want more information about how to buy new-construction or resale properties, be interviewed and fully qualified by one of our preferred lenders, and learn how you can buy your own home using the financing programs currently available for international buyers, please call our Corporate Office at the telephone number that appears in our contact information, next to this communication.